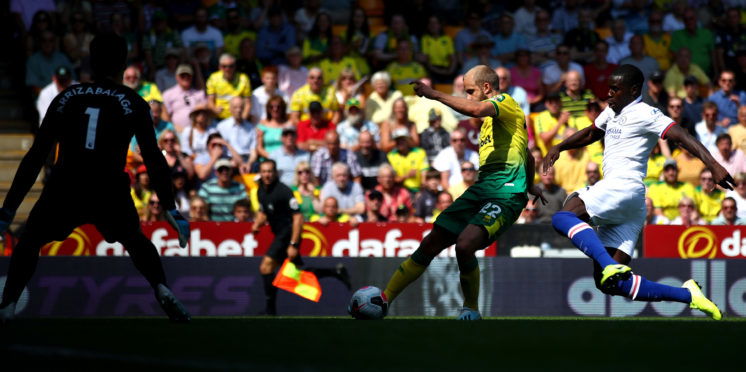 Fans can't resist taking another swipe at Neil Lennon
Such is the world we live in that player scoring five English Premier League goals in three matches can result in criticism for Celtic's manager, but here we are.
Neil Lennon was in charge of Celtic in 2014 and it was his decision to let Teemu Pukki leave the club to join Brondby.
In an interview at the time, Lennon said the Finnish star "wasn't really an out-and-out goalscorer" and hinted that the pressure of playing for the Hoops was too much for him to handle.
Fast forward a few years and Pukki has been banging goals in for fun at Norwich. He scored 29 goals in the Championship last season and he's already got five goals in the Premier League during this campaign.
As is often the case, Lennon's quotes from 2014 have resurfaced and these fans have been quick to stick the boot in on the Celtic boss.
The problem is Neil Lennon isn't a out and out manager…

— Rob Richardson (@RobRichardson28) August 24, 2019
We (Celtic fans) are once again establishing he's not a very good manager and tactically inept. His side selection of late has been questionable at best. An eye for a player he certainly doesn't possess! #LennonOut ?

— Kevin (@walker3638) August 24, 2019
lennon getting it wrong ?..nah never

— jack hutchison (@hutchison285) August 24, 2019
However, other fans have been quick to jump to Lennon's defence, saying he was right to let Pukki leave.
He just wasn't suited to Scottish football at the time. He wasn't a bad player up. Here just never scored enough. And at celtic and rangers if your a striker and not scoring you don't get a chance I'm afraid.

— Conroy (@PaulConroy14) August 24, 2019
Anyone who saw him play upfront for Celtic would've agreed with that too.

— Roomathetop (@roomatthetop67) August 24, 2019
He wasn't when he was at Celtic.. ?‍♂️… what's the issue

— George L Murphy Jnr. (@Murf1956) August 24, 2019
Never forget, Neil Lennon said Virgil Van D was world class after he refused a £12M offer for him. Said he was a £60M plus player and everyone laughed.

Was Lennon right to let Pukki leave in 2014?

Yes

No

— Gary O Hanlon (@gazzachef) August 24, 2019
---