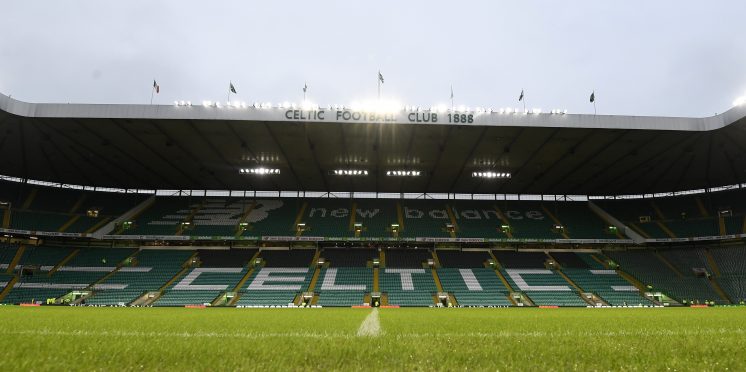 Football Manager predicts how the next 10 years will go for Celtic
Earlier this week we took a look at how Football Manager predicted the 2019/20 season to go for Celtic, before going ahead to see what the 2020/21 campaign had in store.
This time around, we've ventured even further into the future to take a look at what Football Manager predicts the next 10 years will be like for the club, starting from this current season.
Are Celtic still the dominant force in Scotland? And do the Hoops taste success in Europe? Let's take a look and find out.
TOTAL DOMINATION
Celtic wrapped up the 10-in-a-row when we had a look at the 2020/21 campaign yesterday, and it's safe to say that dominance has continued ever since.
In fact, the Hoops went on to win the league for another eight straight seasons, making it a remarkable 18 titles in succession in Scotland; something that would be incredible to see happen in real life!
And what makes it even more brilliant is that in the 2029/30 season, Rangers finished in seventh place in the league, amazing!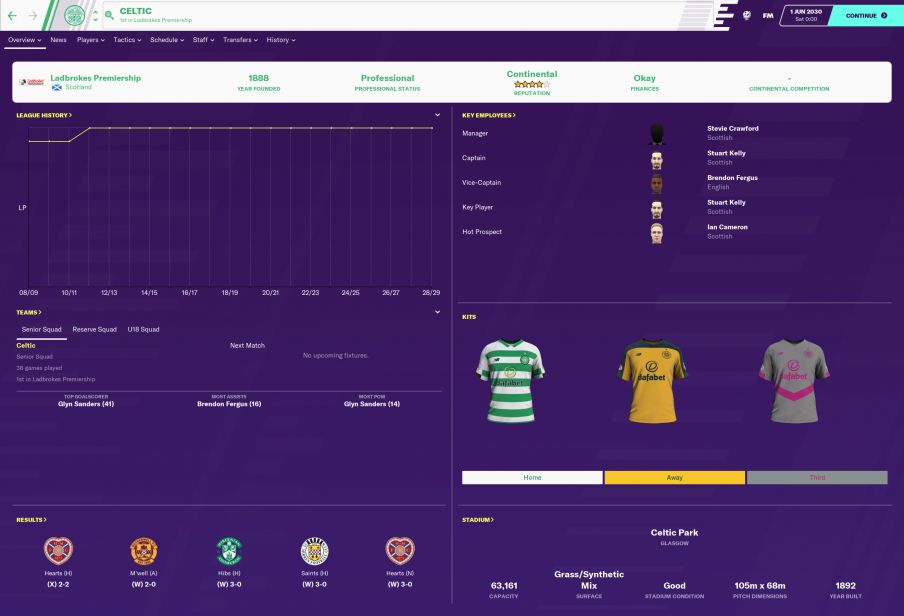 MANAGERS
As some of you may have seen from the image above, Celtic's manager in 10 years time is a rather surprising one.
Here, the current Dunfermline boss Stevie Crawford has taken charge at Celtic Park, becoming just the fourth manager to take the helm during that 10 year period.
Neil Lennon stuck around until the end of the 2021/22 campaign, before leaving the club after three years and 135 days at the club and being replaced by the current Sporting Lisbon manager Ruben Amorim.
Like Lennon, he too enjoyed over three years at the club and he left just a few days short of making it four before being replaced by the hugely successful Antonio Conte; what an appointment that would be in real life!
The passionate Italian's time in charge was short but sweet, spending just one year in charge before Crawford took charge.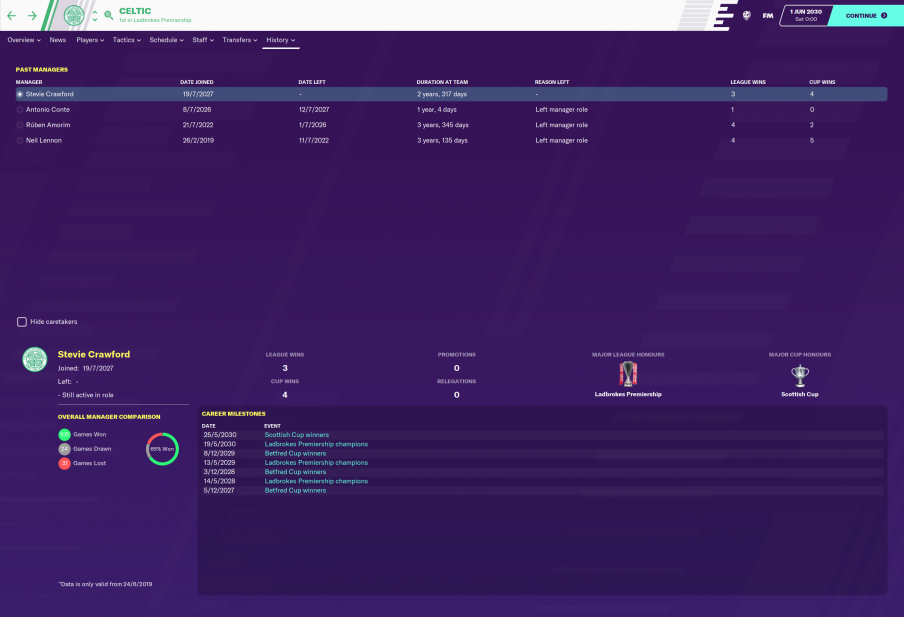 RECORD SIGNINGS
Celtic made a number of impressive signings during the 10 years, smashing the current transfer record of £9m in almost every single season.
The most expensive came in the 2025/26 season under Amorim, when he splashed £32.6m on current CSKA Moscow starlet Fedor Chalov.
Other notable fees included £26.8m on a newgen player named Glyn Sanders from Leeds, £25m on current Schalke wondered Ahmed Kutucu and £23.3m on Chelsea defender Dujon Sterling.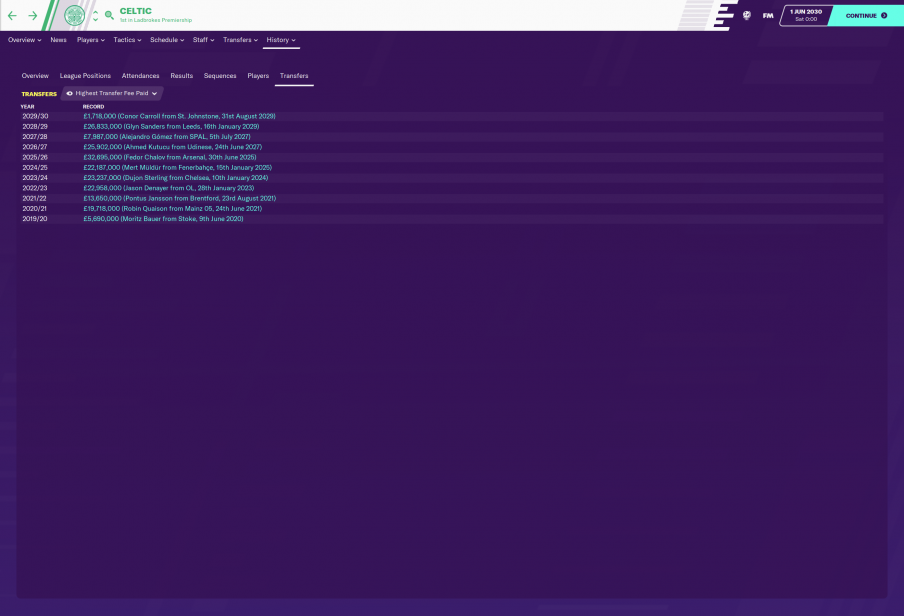 HIGH PROFILE SALES
As we mentioned yesterday, Odsonne Edouard was sold to Manchester City in the January transfer window of the 2019/20 season for £44.8m.
And rather surprisingly, that was the highest transfer fee Celtic received in the next 10 years.
But one reoccurring trend, that has begun in real life as well, is there was at least one high profile sale in every single season.
Sterling proved to be a good investment, with the defender making a controversial move to Tottenham for £35.1m after spending just one season with Celtic.
Another surprise package came when Celtic actually made a £500k loss on Chalov when he left to join Guangzhou Evergrande.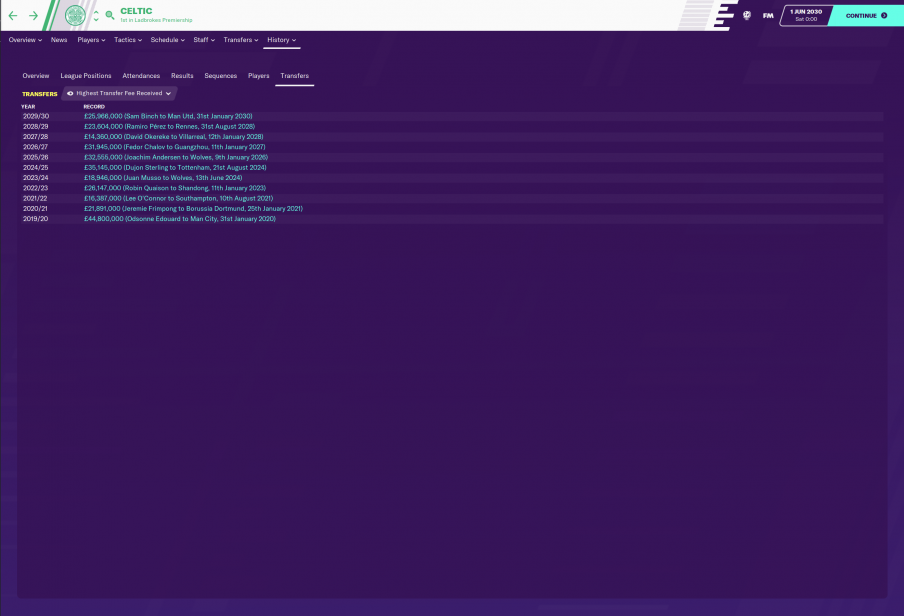 CELTIC'S EUROPEAN RECORD
Celtic made the Champions League group stages in every season following on from the 10-in-a-row success, which is likely to have been a huge financial boost for the club.
And interestingly, from the 2022/23 season onwards, Celtic entered the Champions League at the group stages for the foreseeable future, with no qualifiers needed.
Unfortunately, however, there was no major European success for the Hoops in the 10-year spell, but the most impressive run came in the 2023/24 campaign when the Hoops reached the Europa League semi-final.
After finishing third in a tricky Champions League group alongside Bayern Munich, Lyon and Ajax, Celtic saw off AS Monaco, Shakhtar Donetsk and Benfica before eventually losing 2-0 in the second leg of their semi-final with Real Sociedad.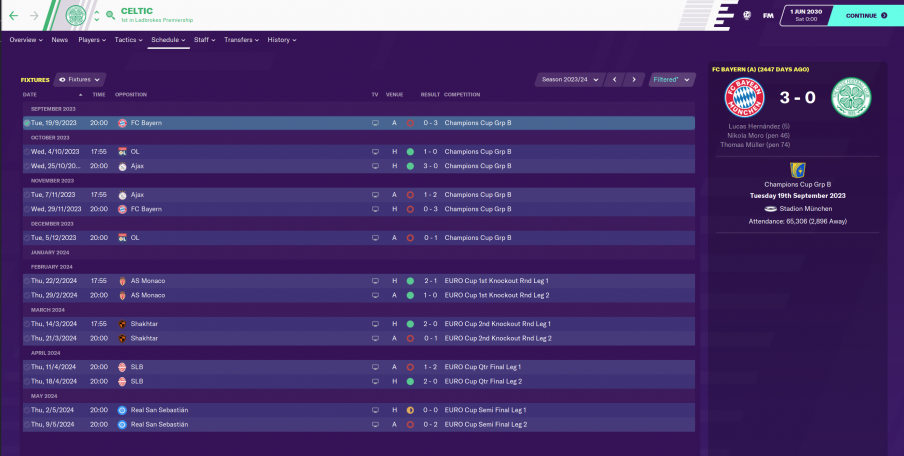 Celtic's impressive and consistent performances in Europe saw Scotland rise to eighth in UEFA's coefficient ranking at the end of the 10th season.
TAKEOVER AND STADIUM EXPANSION
Celtic were understandably well off financially during in the 10 years with money consistently coming in from transfer fees, domestic success and European runs.
Furthermore, the club was taken over by a consortium at the end of the 2027/28 season, and the following year they announced a stadium expansion at Celtic Park.
The current capacity was increased by just over 3000 seats.
Do you think Celtic will replicate this dominance in real life?
Yes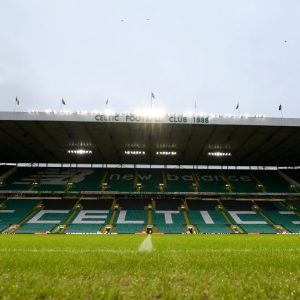 No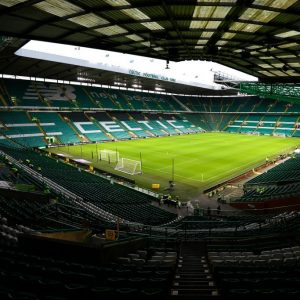 ---
QUIZ: HOW WELL DO YOU KNOW CELTIC'S MOST EXPENSIVE SIGNINGS? CLICK HERE TO PLAY TODAY'S QUIZ.
---