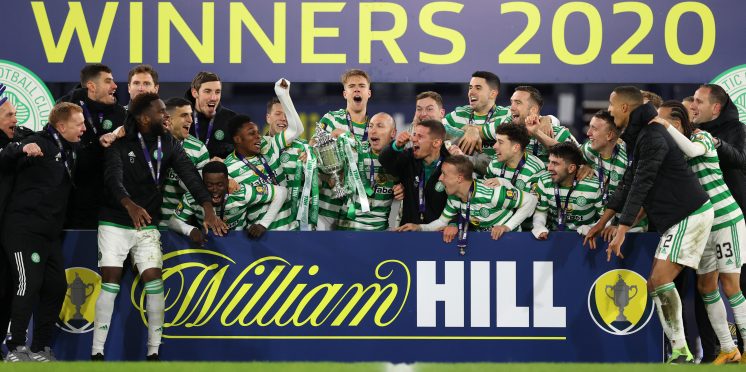 Lockdown Quiz: Can you name all 66 Celtic players who featured in the club's historic quadruple treble?
Celtic sealed a quadruple treble at the end of 2020 following a penalty shootout victory over Hearts at Hampden Park.
Today's quiz will test your knowledge regarding that historic accomplishment, as we've tasked you to pick out every player to have featured for the Hoops during the four-year period.
Each player must have played a Premiership, Cup or League Cup fixture for the club from the 2016/17 season up until the 2019/20 season – with the Cup final victory back in December also included.
Some players made 50+ appearances over the four years, whereas a few played a handful of games.
There are 66 players to get, and we've given you 15 minutes. Good luck!
You scored compared to the average of .
You finished out of .
| Hint | Answer | Correct |
| --- | --- | --- |
| Goalkeeper | | |
| Goalkeeper | | |
| Goalkeeper | | |
| Goalkeeper | | |
| Goalkeeper | | |
| Defender | | |
| Defender | | |
| Defender | | |
| Defender | | |
| Defender | | |
| Defender | | |
| Defender | | |
| Defender | | |
| Defender | | |
| Defender | | |
| Defender | | |
| Defender | | |
| Defender | | |
| Defender | | |
| Defender | | |
| Defender | | |
| Defender | | |
| Defender | | |
| Defender | | |
| Defender | | |
| Defender | | |
| Defender | | |
| Defender | | |
| Defender | | |
| Defender | | |
| Defender | | |
| Midfielder | | |
| Midfielder | | |
| Midfielder | | |
| Midfielder | | |
| Midfielder | | |
| Midfielder | | |
| Midfielder | | |
| Midfielder | | |
| Midfielder | | |
| Midfielder | | |
| Midfielder | | |
| Midfielder | | |
| Midfielder | | |
| Midfielder | | |
| Midfielder | | |
| Midfielder | | |
| Midfielder | | |
| Midfielder | | |
| Midfielder | | |
| Midfielder | | |
| Midfielder | | |
| Midfielder | | |
| Midfielder | | |
| Midfielder | | |
| Midfielder | | |
| Midfielder | | |
| Forward | | |
| Forward | | |
| Forward | | |
| Forward | | |
| Forward | | |
| Forward | | |
| Forward | | |
| Forward | | |
| Forward | | |
---