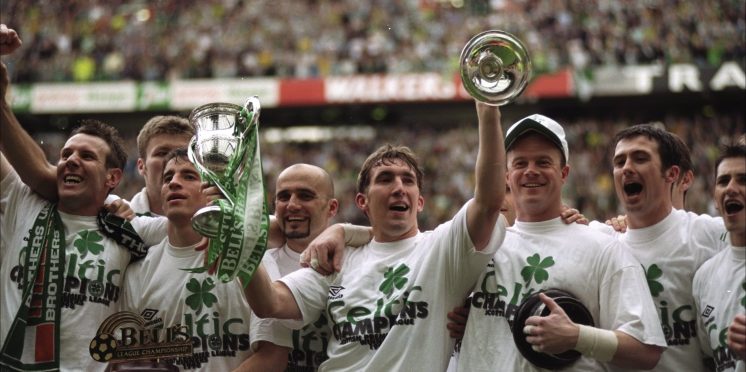 Moment in Time – Henrik Larsson ends 10 years of Celtic hurt
Season 1997/98 has to be considered as one of the biggest in Celtic's history. Under new manager Wim Jansen, the Bhoys were hoping to win a first league title in a decade, and stop Rangers from winning 10 titles in a row. It didn't get off to the best of starts, as Celtic lost their first two league games of the season.
By the end of the season though, the team had clicked, and in May 1998 Celtic went into their final league game of the campaign knowing that a win over St Johnstone at a packed Celtic Park would clinch that long-awaited league title.
It was bound to be a very tense game, as Celtic knew that if the team failed to win, Rangers would have a chance of winning the league if they won at Dundee United.
The best way to ease any nerves would be through scoring an early goal – step forward Henrik Larsson.
With only two minutes on the clock, Larsson got the ball in the St Johnstone half. He then went on a run, surging towards the penalty box and curled a sweet shot into the back of the net, giving the goalkeeper Alan Main no chance. Celtic Park celebrated wildly as the Bhoys had got off to the perfect start.
The Hoops eventually got a second goal towards the end of the game, Larsson wasn't involved on this occasion as Harald Brattback scored to seal a league title in Wim Jansen's only season in charge at the club, and a first league title since 1988.
YouTube: Celtic 2 St Johnstone 0 9th May 1998
The years of hurt were over, as the Bhoys were back where they belonged, at the top of Scottish football.
It can be argued that Larsson's goal against St Johnstone is the most important that he ever scored for the Hoops.
He might have scored some better goals, and in played in what could technically be considered some bigger games – the 2003 UEFA Cup Final for example – but for Celtic fans it was so important that the team managed to win the title and stop Rangers winning 10 titles in a row.
Who knows where the club would be at the moment if the Hoops hadn't managed to win the league. Thankfully Celtic did win the title, and Larsson went on to win another three league titles at the club, as the Bhoys began to dominate Scottish football.
That period of domination, which has lasted for more than 20 years, began when Larsson curled the ball into the St Johnstone net.
Henrik Larsson created so many special memories in his seven years at Celtic, but the goal against St Johnstone stands out just for what it meant at the time. It gave hope to Celtic fans that the years of not winning the title were over.
---
---