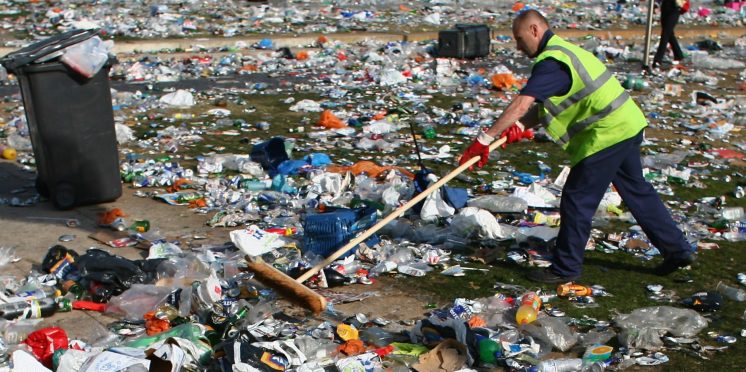 The stark realisation that there is a very real threat to the city of Seville is hitting home
The stark realisation that there is a very real threat to the city of Seville is starting to set in now.
When you hear that the likes of Stewart Robertson "urging" fans to enjoy themselves – but be respectful of the city and the locals, you know there's a concern there that this could go seriously awry.
Stewart Robinson is a man who rarely condemns the behaviour of the Ibrox support, especially when it's been out of control in Scotland.
But now, he is very cognizant of the fact that the eyes of the world are on his club.
There is a distinct worry there that one of the ugliest fan-bases in world football could cause mayhem in the ancient city in Andalusia.
Robinson says:
"To the supporters with or without tickets, go and enjoy yourself, go and enjoy the occasion. I remember in 2008 thinking 'will I see R*****s in a European final again? It is fantastic. Go and enjoy the occasion, go and be a good ambassador for R*****s."
Note how he avoids completely mentioning what happened in 2008?
He references it, but won't go so far as to ask the fans not to repeat what happened there. He asks them to be good ambassadors for the club.
I think we have all seen down through the years what good ambassadors for the Ibrox club look like.
He continues by saying:
"We are going to a beautiful city, in Seville, go and enjoy the city but let's go and do it in the right way, the right manner. Go and enjoy it, have a good time.
"Regardless of numbers go and do it, respect the city, respect the locals, there will be people going about their day-to-day business.
"I remember when Bayer Leverkusen and Real Madrid were in Glasgow (Champions League final 2002) and there was a great atmosphere in the city so hopefully we can create a similar atmosphere in Seville.
"There is going to be disruption to people's day-to-day lives but hopefully we minimise that and do it in a way that is positive. And the local people, when we leave, have a good impression of Rangers and Rangers supporters."
By reading those words, it is clear to see that Robinson and the club are very worried about the real "impression" Ibrox supporters will leave on the populous of Seville.
What's coming down the tracks next Wednesday night is a real melting pot with many recipes for disaster all mixed into it.
There is now talks of Uefa creating a fan zone for the Ibrox club. Remember the fan zone in Manchester in 2008?
Whoever is in charge of of the big screen on that day will need to be well versed in the consequences of what will happen should there be any "technical difficulties" during the match.
As for respecting the local residents, the above image shows how much respect the Ibrox support had for the residents of Manchester.
Has that changed since then?
Reference "George's square May 2021" and you'll find the answer to that question fairly quickly.
Then add into the mix the Eintracht Frankfurt fans.
This is a fanbase with a group of Ultras who have no fear whatsoever of any opposition fans.
They are not going to have any fear of the Ibrox fanbase and one things is for sure, they will definitely "play" on the "delicate sensitivities" of said fanbase.
Finally, in Seville, you have a city that is strongly immersed in the Catholic faith and we all know the kind of respect the Ibrox fans have for this particular faith.
So the question you've got to ask is this?
Are these fans, all of a sudden, going to change the way they behave just because Stewart Robinson asks them to?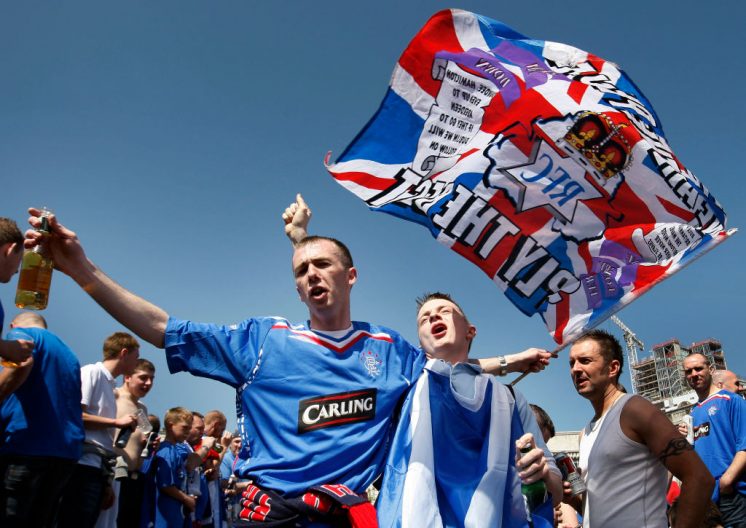 Bear in mind that this is a man who didn't ask them to behave in George's square in May of last year, didn't ask them to behave in the last two Glasgow derbies and didn't condemn what their fanbase did to one of Celtic's backroom team last April.
Now, miraculously, he can pick and choose when they should and shouldn't behave and they're going to listen and do exactly as he asks?
They're not going to subject the people of Seville to their wonderful Anti-Catholic song book?
Spare me.
The latest word is that they're going to attempt to beat Celtic's number of 80,000 fans in the same city in 2003.
I dread to think of the outcome if they bring anywhere near close to those numbers.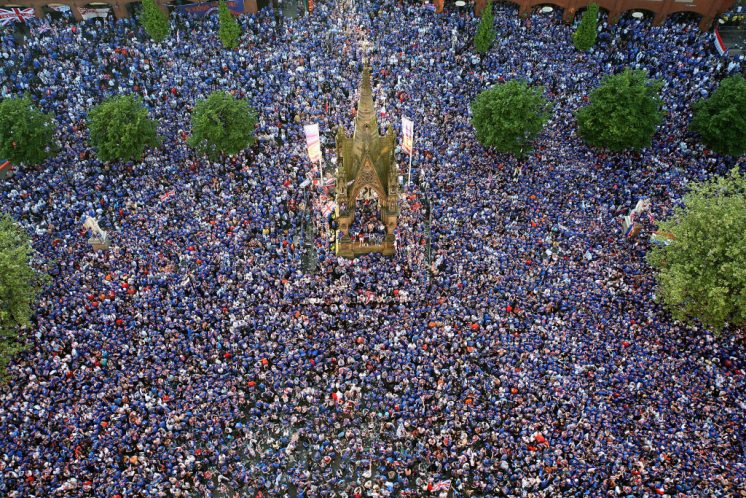 While the SMSM trumpet this as a huge achievement for the Ibrox club, it's clear there is a distinct fear that the behaviour of their fans could be extremely damaging to their already warped image.
Bear in mind that Social media is a lot bigger in terms of reach than it was in 2008.
Also bear in mind that the eyes of the world and the eyes of the world's press will be on Seville for this.
Stewart Robinson knows that this event could severely damage the image of his club.
That is why he is now suddenly interested in them showing "respect" and being good "ambassadors" for the club.
Too little, too late Stewart.
You've let this rabble run wild like rabid dogs up to this point.
You aren't going to tame them now.
Seville is going to pay for that.
---
---