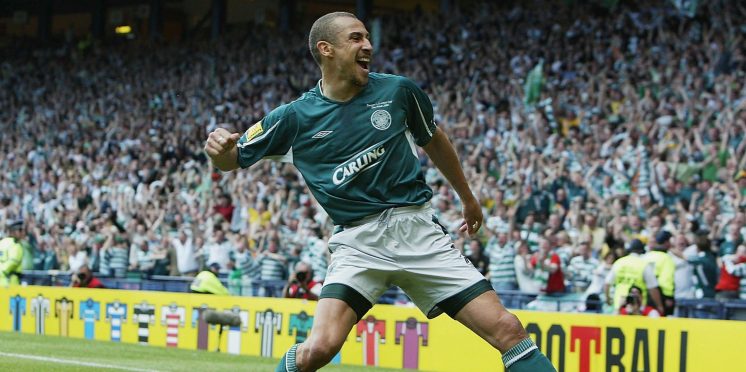 Duels: The next best modern day Celtic striker after the King?
Celtic strikers since the King: We've had a lot of strikers pass through the doors since the King left. Henrik Larsson was always going to be a tough act to follow, but some strikers have given a very good account of themselves since his departure. None have quite reached his levels though.
I thought we'd set up another duel to try and find out who has been the best since the King.
I've picked TEN strikers in total. Obviously, these guys will all have been prolific during their time with the club and we won't include any duds.
As with our previous duel, I'll give a brief bio of each striker and you can make your decision based on who you think was the best since the King.
Once again, all you'll have to do is go through the duels selecting your 'winner' from each match up. That winner will continue into the next duel to be pitted against a new striker. If he's still your winner, select again. If not, choose another person in the duel.
It's as simple as that!
You ultimately voted for .
Odsonne Edouard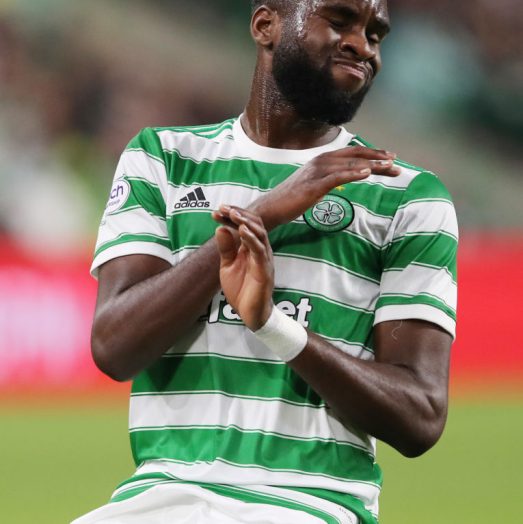 Odsonne Edouard was Celtic's record signing, costing the club £9 million. Like Moussa Dembele, he had the potential to be a Celtic great. Instead, after the failed quest for ten in a row, he choose the bright lights of the Premier League down South. He moved to Crystal Palace in September 2021 for just over £15 million, rising to £20 million with add ons. His goal return in comparison to his time at Celtic has been paltry, 6 goals in 27 appearances.
This indicates he may not have been quite ready for what he thought was a step up. In his time at Celtic, he made 116 appearances, scoring 66 goals in the process. He was the second highest ever scorer in the Scottish Premiership, behind only Leigh Griffiths. His ratio of 0.57 was the highest of all time. He had the opportunity to leave the club a legend had he helped deliver ten in a row, but like a lot of other players, he just downed tools that season.
Scott McDonald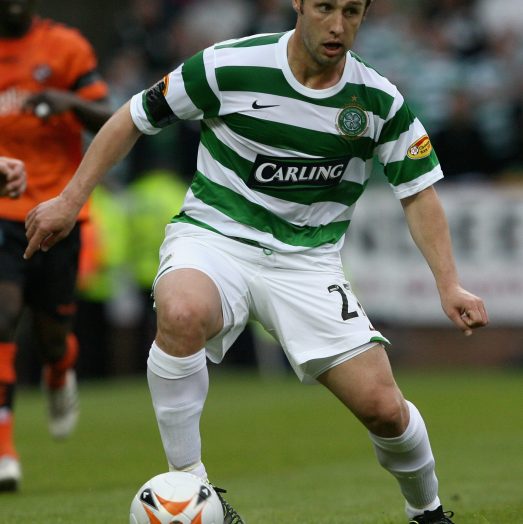 Scott joined Celtic at the start of the 07/08 campaign. It took a while for the Celtic support to take to him after his infamous winning goal for Motherwell against Celtic on the final day of the season in 2005. Celtic lost the game on what became known as 'Helicopter Sunday'.
The league trophy was on it's way to Fir park and the helicopter had to change direction and bring it to Easter Road instead after Rangers 1872's win against Hibs secured them the title. McDonald spent 3 seasons at Celtic, playing 88 times and scoring 51 goals, before following Gordon Strachan South to Middlesborough.
Moussa Dembele
Moussa Dembele joined Celtic in 2016 from Fulham for £500,000. At first, he was expected to be one of the usual 'projects' for the club. When Celtic were due to play the first Glasgow Derby in September 2016 against the Ibrox side, Leigh Griffiths was expected to lead the line. A late injury forced Griffiths out and Dembele was given his chance to lead the line instead. The rest, as they say, is history. He scored a hat-trick in what came to be know as the Demb-olition Derby.
He spent two prolific seasons between 2106 and 2018 at the club, scoring 26 goals in 55 appearances. He was sold to Lyon in acrimonious circumstances in September 2018 for £18.5 million and left the club under a cloud. Celtic fans felt the club cashed in on him far too early and that we had yet to see the best from him. Sadly, we never got to.
Gary Hooper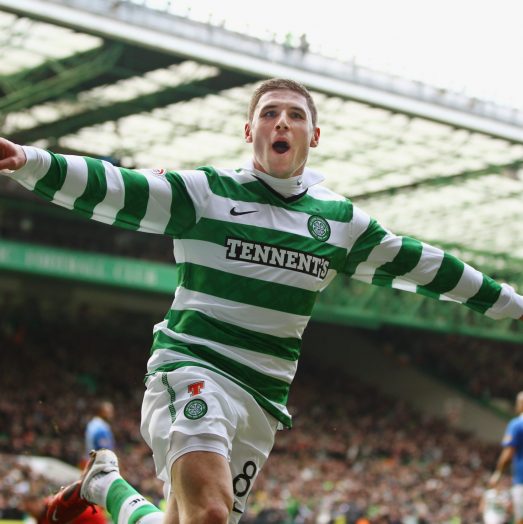 Celtic signed Gary Hooper for £2.4 million in July 2010. At the time, a lot of people thought that was a lot to pay a club like Scunthorpe United, who were playing in League One at the time. However, he had been fairly prolific in front of goal for the Irons, scoring 43 goals in 80 appearances.
He went on to play for Celtic for three seasons, scoring 63 goals in 95 appearances. He was sold to Norwich City in 2013 for £5 million, much to the disappointment of the Celtic fans.
Anthony Stokes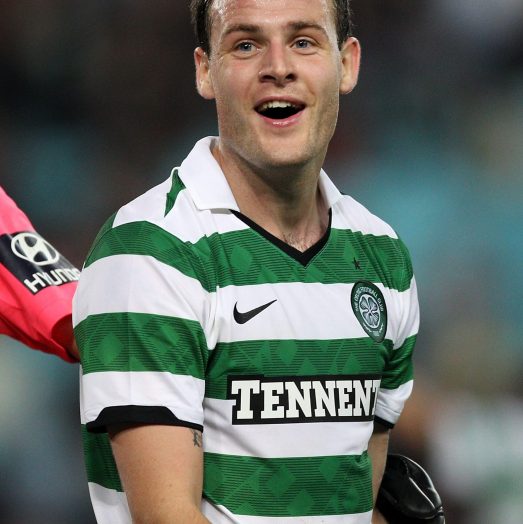 Anthony Stokes joined Celtic in 2010 for £1.2 million. He spent six seasons with the club. His first three seasons with the club were quite prolific, but he fell out of favour with Ronny Deila towards the end of his career with the club. Despite that, he still scored 58 goals in 135 appearances.
He will perhaps be most fondly remembered by Hibs fans for his brace against the Ibrox side in the 2016 Scottish cup final, which helped them to a 3-2 win and their first Scottish cup in 114 years.
Giorgios Samaras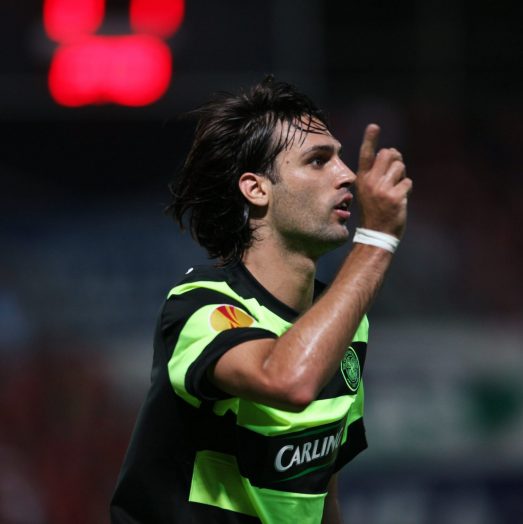 Samaras first came to Celtic on loan from
Manchester City in January 2008, whereby he made 16 appearances scoring 5 goals. This was enough to earn him a permanent move in July 2008 and the club are reported to have paid between £1 million and £3 million for his services.
He became a bit of cult hero at the club and made 156 league appearances between 2008 and 2014, scoring 48 league goals in the process. Overall, he made 249 appearances for the club scoring 74 goals before moving on to West Brom in 2014.
Maciej Zurawski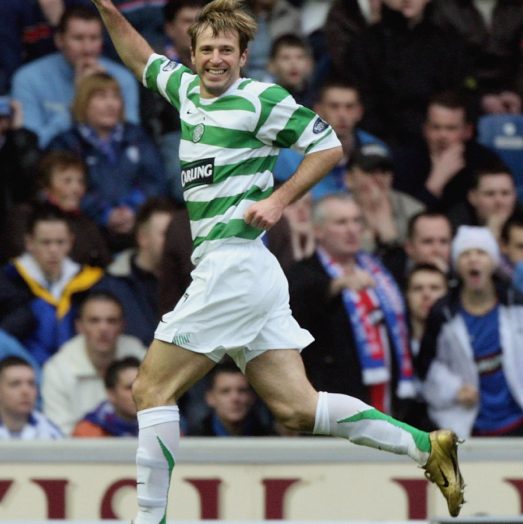 'Magic' joined Celtic in 2005 and spent 3 seasons with the club. In his first season, he finished joint top scorer with John Hartson on 20 goals.
He set a new SPL record in that season by scoring 4 goals in an 8-1 win over Dunfermline Athletic. Strangely enough, after a very promising first season, in the following two campaigns, he only scored a further two goals, before moving on to Larissa in the Greek Super League.
John Hartson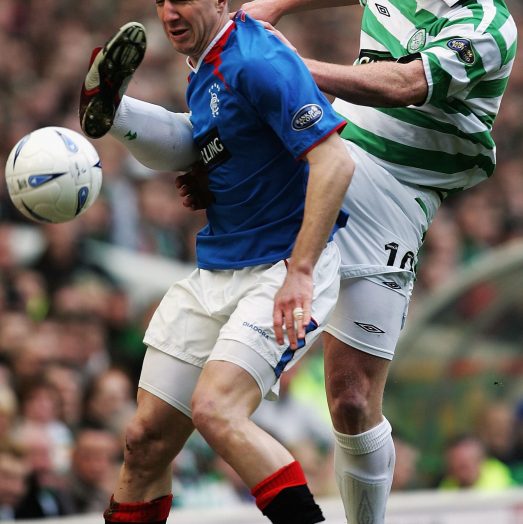 Big John Hartson played at Celtic for another 2 seasons after the King departed. All in all, he made 146 appearances for the club, scoring an impressive 88 goals. He will be most fondly remembered for his screamer against Liverpool at Anfield in the Uefa cup run to the Seville final in 2003.
Chris Sutton
Chris Sutton also remained at Celtic for a further 2 seasons after Henrik Larsson's move to Barcelona. He was very much a striker who created goals for others as well as scoring plenty of important goals himself. Much loved still by the club and it's support, he made 130 appearances, scoring 63 goals in the process.
Leigh Griffiths
Griffiths joined Celtic in January 2014 for a fee reported to be around £1 million. A divisive figure at the best of times, he had his most prolific season with Celtic in 2015/16, scoring over 40 goals in all competitions. He had the potential to be one of the greatest strikers since the King, but seemed to have a self destruct button.
He scored well over 100 goals for the club, but in realty, could have scored a lot more. His career at Celtic petered out when Ange Postecoglu arrived and despite being offered a contract extension by Ange, he became mired in another scandal, which ultimately ended his career with the club.
---
Leaderboard
| | |
| --- | --- |
| Chris Sutton | 78% |
| Moussa Dembele | 75% |
| John Hartson | 60% |
| Odsonne Edouard | 55% |
| Gary Hooper | 49% |
| Leigh Griffiths | 37% |
| Giorgios Samaras | 22% |
| Scott McDonald | 22% |
| Maciej Zurawski | 8% |
| Anthony Stokes | 6% |
---
---