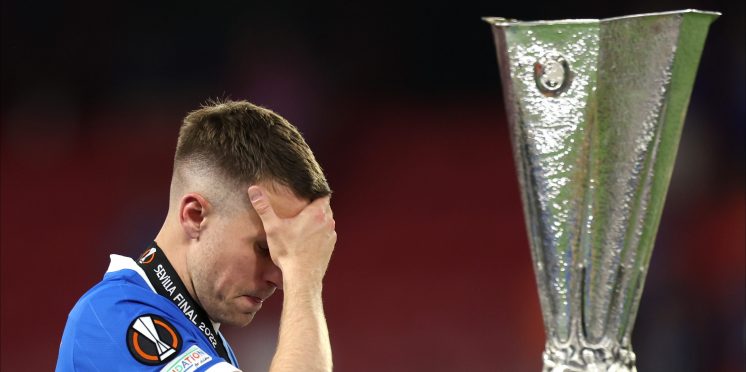 As the dust settles on the Ibrox side's EL final loss, just what impact does THAT penalty miss have on our game?
There has been much laughing and mirth going on since Wednesday night in the aftermath of the Ibrox side's Europa League final loss.
Many people believe we're going a bit too far in our ridicule of the whole thing, but rest assured, if the shoe was on the other foot, we would be facing the exact same ridicule, if not worse.
People on the outside looking in think that this is strange.
They can't understand why we wouldn't support a club from our own country in a major European final.
They're not fans of either club, so therefore they will never understand it or get it.
To put it into proper context, does anybody think that Fenerbahce supporters would support Galatasary in a major European final?
Does anybody think Barcelona supporters will support Real Madrid in the upcoming Champions League final?
You get my meaning then.
But when all the dust has settled on this and all the fun has been poked until there's no fun left to poke (this will never end), what impact does Aaron Ramsey's penalty miss have on our game overall?
Let's start with Aaron Ramsey himself.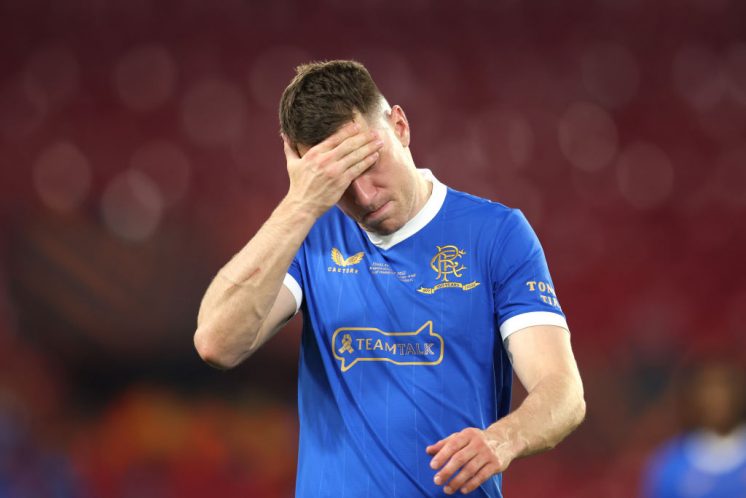 That penalty miss will haunt him for the rest of his life.
It may even be a career defining moment for him.
Put it this way, he'll need to be a very strong individual to recover from it.
His arrival in Scottish football was trumpeted as a defining moment for the game in our country.
In the end it was hugely defining, but for all the wrong reasons.
As with many big players and managers who have walked through the hallowed doors of Ibrox and drunk from the loving cup, he will be leaving Govan a broken man.
Similar to Paul le Guen, Joey Barton and Tore Andre Flo, to name but a few.
Ibrox is a graveyard for once stellar careers.
When big names arrive at Ibrox, as soon as they leave, their careers rarely hit the trajectory they were on before they arrived there.
The financial risk that the Ibrox club took on Aaron Ramsey came home to roost on Wednesday night.
£2.5 million on loan fees for a player who spent most of his time on the treatment table to begin with.
Then there's the cost of that penalty miss.
£50 million down the drain in one weak, poorly taken, down the middle, penalty.
Not only will that miss haunt him, but it will haunt Giovanni van Bronckhorst for the rest of his days too.
Who knows? After Saturday, his career may also end up in the graveyard of Ibrox broken dreams.
Saturday afternoon could be a career defining day for him too.
The remainder of his management career at Ibrox is riding on it.
If he loses that one, then the Ibrox board will need to decide whether he is capable of facing the challenge Ange Postecoglu is going to lay on his doorstep next season.
In reality, the financial implications of that penalty miss are huge for the Ibrox club.
They were within a whisker of financial stability – they were within a whisker of being able to box with us toe to toe – now they're back on the canvas, floored by a man who was supposed to be their saviour.
The irony of that is not lost on me.
Everything they've earned en-route to the Europa League final is now going to be handed over to Mike Ashley.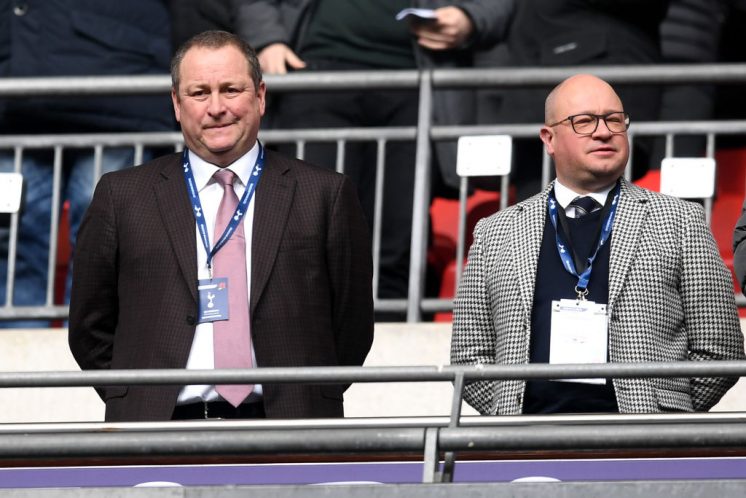 They've settled with Big Mike, however, nobody is sure of the exact amount they've settled on, but rumour has it to be between £7 million and £10 million.
If they had won the Europa League and then had Champions League group stage football in September, we would be back to slugging it out, punch for punch with them for dominance in Scotland.
Instead, we now find ourselves in a position where we can start to pull away from them again.
The roles have been reversed completely in the space of one season.
Whereas this time a year ago, we were the ones expected to fade into the distance, instead the Ibrox side now find themselves in that unenviable position.
Back in 2020, during the height of Covid, I remember sitting with a mate and discussing the upcoming campaign for the ten.
I told him that the Ibrox side would throw everything, including the kitchen sink, at stopping the ten. I said they would push the financial boundaries beyond belief to achieve that.
But at what cost?
Their entire existence?
Again?
They did that and they achieved their goal of stopping the ten and the financial woes that I thought were a certainty, never seemed to materialise.
At the start of last season, I realised they were gambling the "Big Hoose" on the Champions League being their saviour.
The "Championss Leaguess moniess" parody of Jon Dahl Tomasson in August 2021 laid bare the reality that calamity is always waiting around the corner for the Ibrox side.
YouTube: Malmo boss says Rangers 'need Champions League money'
This season has just been one long series of calamitous events, culminating in the most calamitous of them all last Wednesday night.
I guess you could call it calamitous Karma.
You always get the sense that it's never far away, but you just never know exactly when it's going to happen.
For them, it always happens at the most inopportune times.
For us, it's the polar opposite, it happens at the most opportune times and it's always a source of massive amusement.
So when the "Championss Leaguess moniess" disappeared in August, all was not lost.
The next route was the title, which guaranteed a route to the Champions League group stages and all the money that goes with that.
They were certainties for that and as usual, the SMSM did their job for us and immediately cursed it by putting their seal of approval on it.
We will never tire of regurgitating their bullshit predictions and I took great pleasure in doing that with yesterday evening's slide show.
But you couldn't mark these guys with a blowtorch, simply because they're completely thick and they will never learn.
The title started to slip from their grasp as we gnawed doggedly away at their six point lead in the early part of this year, while they pissed and moaned about the fact they didn't get to play us behind closed doors at the height of our injury crisis.
You see? That's their M.O. and when they see a possible advantage snatched from their grasp, all hell breaks loose.
Karma took care of their protestations and on February 2nd, we taught them the footballing lesson they were long over due.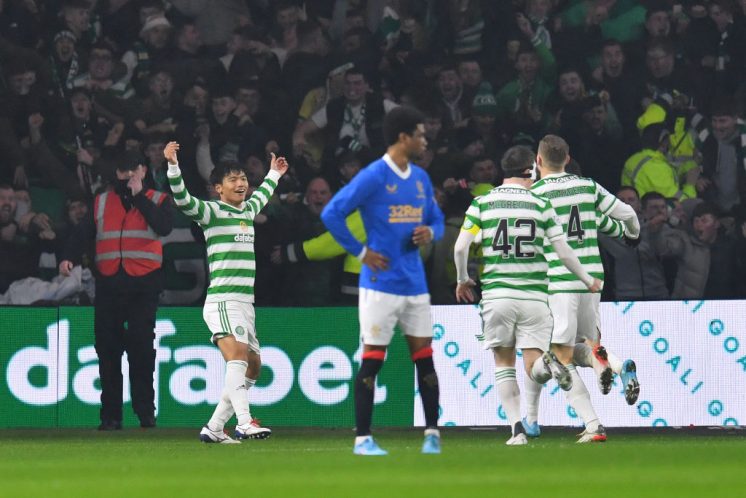 Now the title route to the "Championss Leaguess moniess" was on shaky ground as we moved ahead of them in the title race.
On April 3rd, we went to their back yard and performed a smash and grab on them, another 3 points in the bag and all of a sudden we were six clear with a much superior goal difference.
The writing was on the wall and the Ibrox fans knew it, evidenced by the tears that flowed in the stands after the final whistle.
Where were they going to get the "Championss Leaguess moniess" now?
Well, you know the old saying?
"When you sell your soul to the devil, he gives you what you want, but he takes it back when you least expect it."
The Ibrox side got what they wanted with their run to the Europa League final and they really thought they were finally going to get their hands on those "Championss Leaguess moniess."
But the devil's acolytes in the SMSM did their usual and predicted the trophy was already in the bag.
It was officially cursed.
Then the devil arrived for his dues around 12 a.m. on a hot and balmy night in Seville as Aaron Ramsey stepped up to the penalty spot.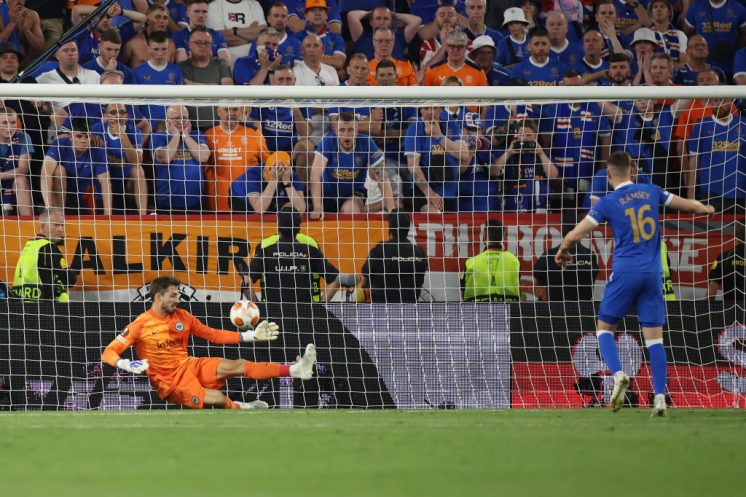 I started this article by asking what impact that penalty miss will have on our game?
Well, it's simple really, the financial implications of it will be far reaching for the Ibrox side.
There is no doubting they needed that "Championss Leaguess moniess" and pretty badly at that.
I can imagine Douglas "playing a game of double or quits with his chin and losing badly" Parks' ample gut sank when the saviour of their season had his tame penalty saved by Kevin Trapp.
He knew better than anyone what that miss meant to his pockets. Now it just depends on how deep they are and whether he's willing to dig any deeper.
I sense a fire sale on the horizon.
It's going to make for an interesting summer.
It gives me a warm feeling in the pit of my stomach!
---
---