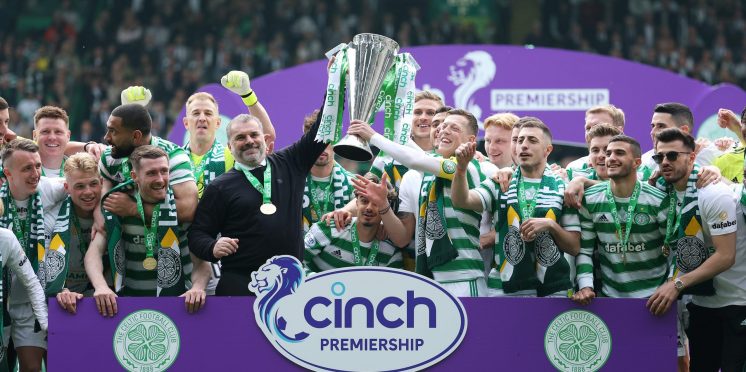 Slideshow: We look back on the games and moments that defined Celtic's 2021/22 title win
Now that it's over and we can reflect on it with deep satisfaction, the realisation has hit home of what a rollercoaster the season just ended actually was.
The season before, when we were pushing for the ten, should have been a rollercoaster, but it just ended up being a damp squib, sapping our emotions.
By January 2021, it had instilled a lethargy in us where we were just numb and we stopped caring.
We knew even then the game was up.
We entered the 2021/22 season with low expectations and for the first time, some of us even believed the drivel the SMSM were writing about how the season would pan out.
Ange's arrival changed everything and despite three losses in our opening six games, it wasn't long before he woke our emotions once again.
Soon we were alive and Celtic Park was awake again too.
I've decided to do a slideshow on the games and the moments in them that defined our season, these moments were critical to our push towards the title and I doubt you'll disagree with me when you run through them.
If you feel I missed any, feel free to let me know!
Enjoy!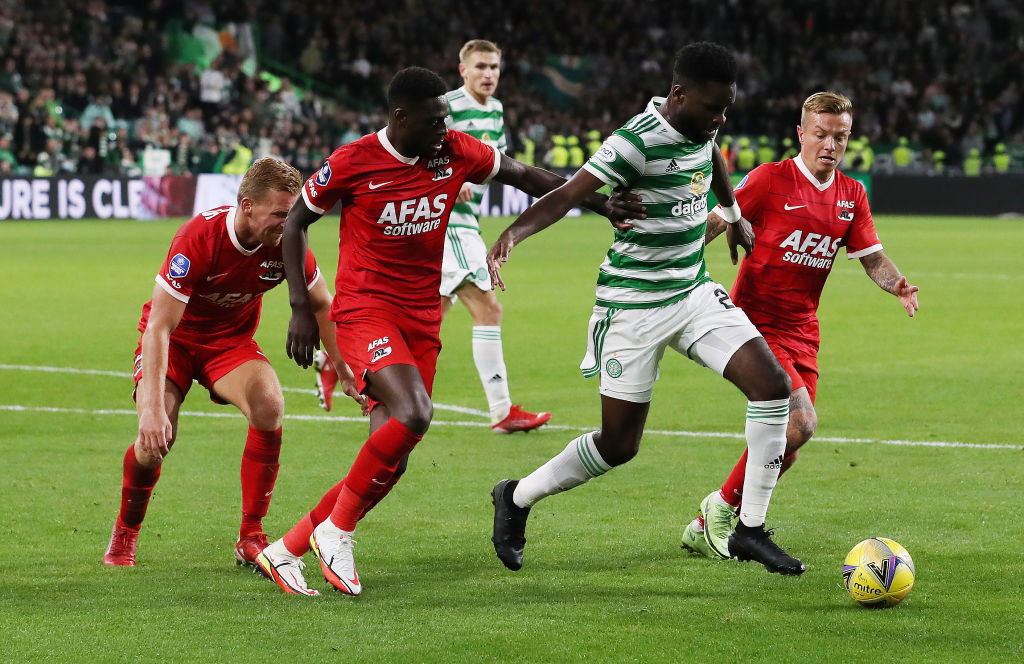 26/08/21: Celtic v AZ Alkmaar
YouTube: UNIQUE ANGLE: Celtic 2-0 AZ Alkmaar | Kyogo Furuhashi and Forrest on the scoresheet!
This Europa League qualifier was the first time we really got see what Ange was trying to do at Celtic Park. His style of play started to emerge in a game we dominated from start to finish.
We could have scored a lot more than 2 goals and the style of play we witnessed gave us an indication of what was to come.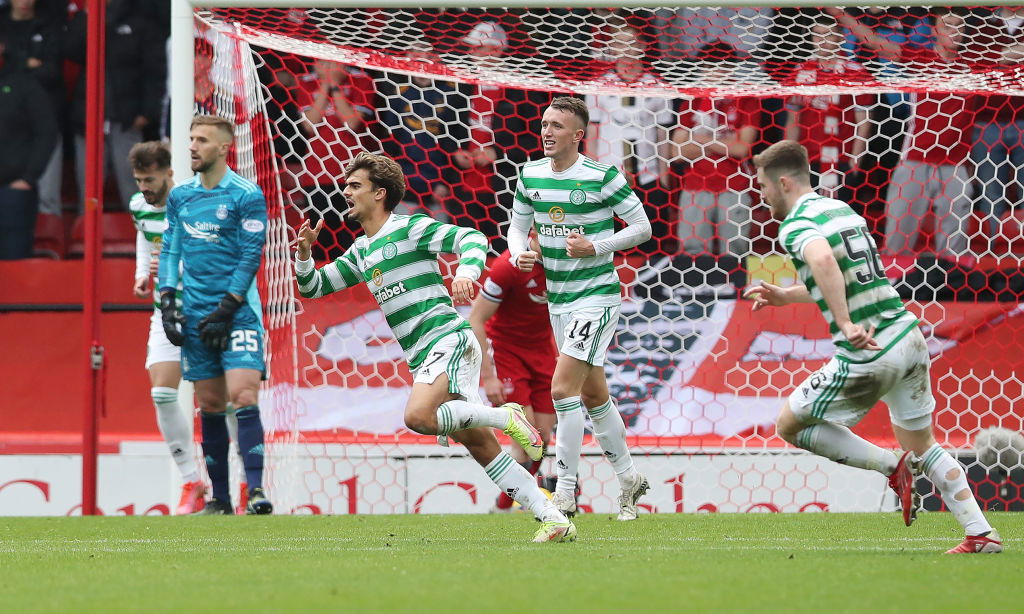 04/10/21: Aberdeen v Celtic
YouTube: Aberdeen 1-2 Celtic | Jota's late goal gives Celtic the win | cinch Premiership
This was the first major turning point in our season. We were coming off the back of a shaky opening two months to the season.
We still hadn't won an away game since February 2021 and it was becoming a noose around our neck.
We needed to break that duck to be able to push on and gain confidence.
We duly did that in a scrappy affair at Pittodrie, grinding out a 2-1 win with goals from Kyogo and Jota.
We really didn't look back after that.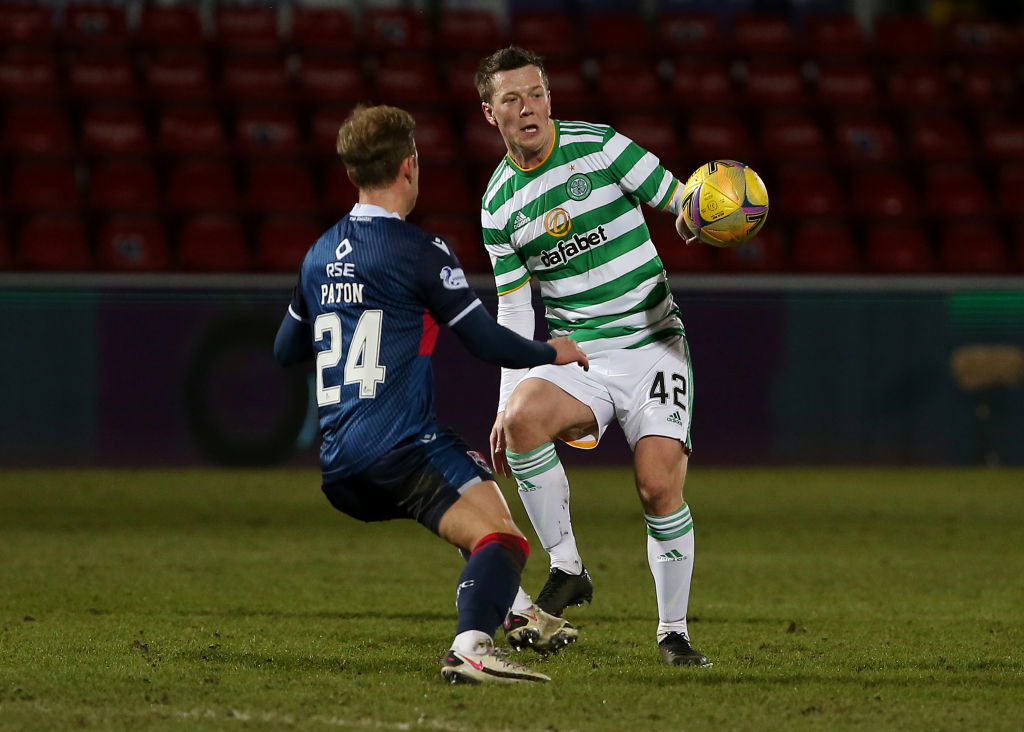 15/12/22: Ross County v Celtic
YouTube: Ross County 1-2 Celtic | Ralston Rescues 10-man Celtic with a Dramatic Winner! | cinch Premiership
We went to Dingwall in the midst of an injury crisis, with barely a recognised striker available for selection.
This was always going to be a tough one and it turned out exactly like that.
At 1-1 in the 79th minute, Carl Starfelt was harshly sent off after being booked for first complaining about an elbow in the face, which gave him a bloody nose and then receiving a second yellow for a nothing tackle.
It looked ominous for Celtic after that and a draw seemed the likely outcome.
However, in the 7th minute of injury time, up stepped Anthony Ralston, getting on the end of sublime cross from Tom Rogic with a thunderbolt of a header into the County net.
Cue pandemonium from the away end and a celebration that will long in the memory.
For me, that was THE goal that defined our season, the epitome of WE NEVER STOP!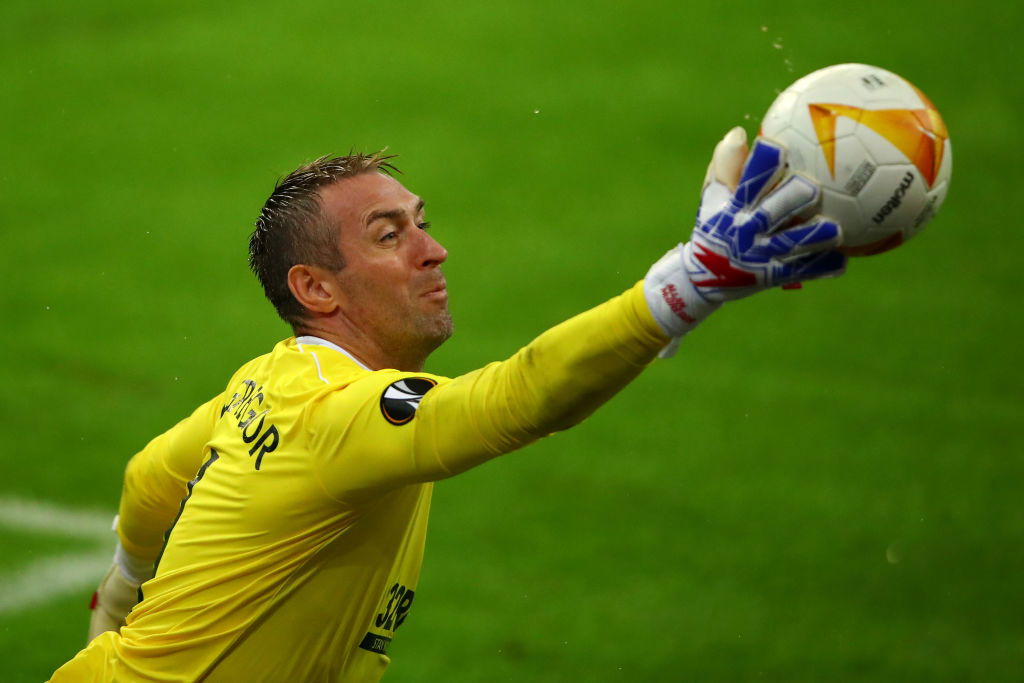 29/01/22: Ross County v Old Firm Inc.
YouTube: Ross County 3-3 Rangers | SIX-Goal Highland Thriller ft. Debut Amad Goal! | cinch Premiership
I had to include this, as it turned the title race on it's head and gave us the opportunity to go top of the table when we met the Ibrox side the following Wednesday night at Celtic Park.
Greegsy gifted us that opportunity with some prize gaffes in injury time against a stubborn Ross County side.
We knew three points were a must against Dundee United in the afternoon kick off later that same day!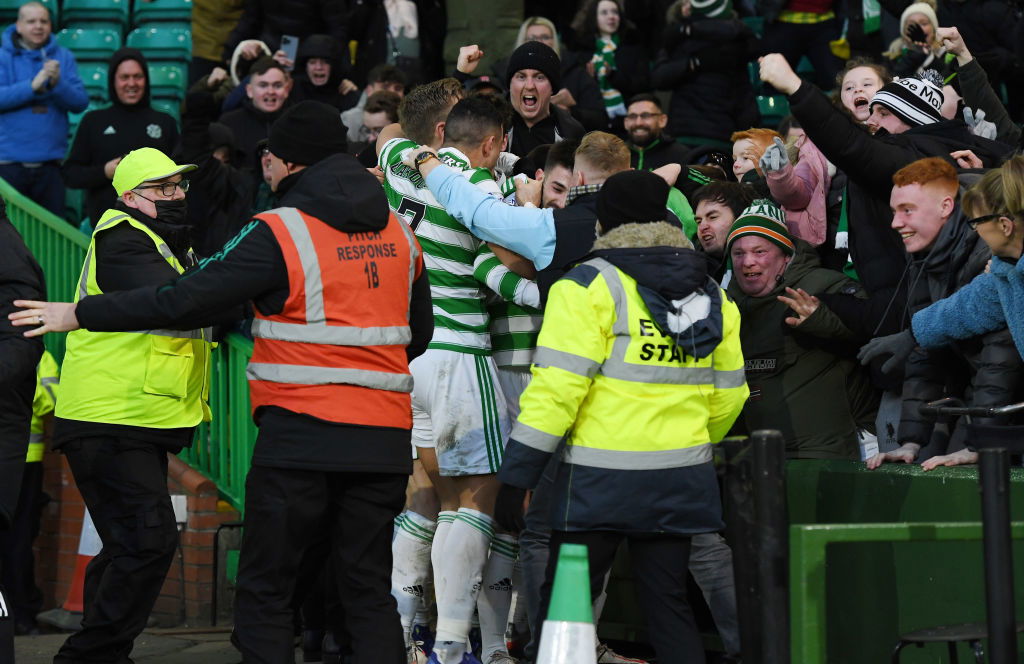 29/01/22: Celtic v Dundee Utd.
YouTube: Celtic 1-0 Dundee United | Late Abada Goal Secures Vital Celtic Win! | cinch Premiership
On an afternoon where it seemed like Dundee Utd were going to do the same thing they had done to us on their previous visit to Celtic, we struggled to find a breakthrough.
When Nir Bitton was sent off in the 81st minute, it looked as if we would blow the chance to go level with the Ibrox side on points after they had drawn in the early kick off against Ross County.
The sending off seemed to have the opposite effect and we poured forward in search of a winner.
Then in the 91st minute, Jota sent the ball into the box, Liel Abada got on the end of it and Celtic Park erupted.
Jota's celebrations showed back then why it looks like he wants to sign for our club today.
The result left us knowing if we beat the Ibrox side the following Wednesday, we would go top of the table.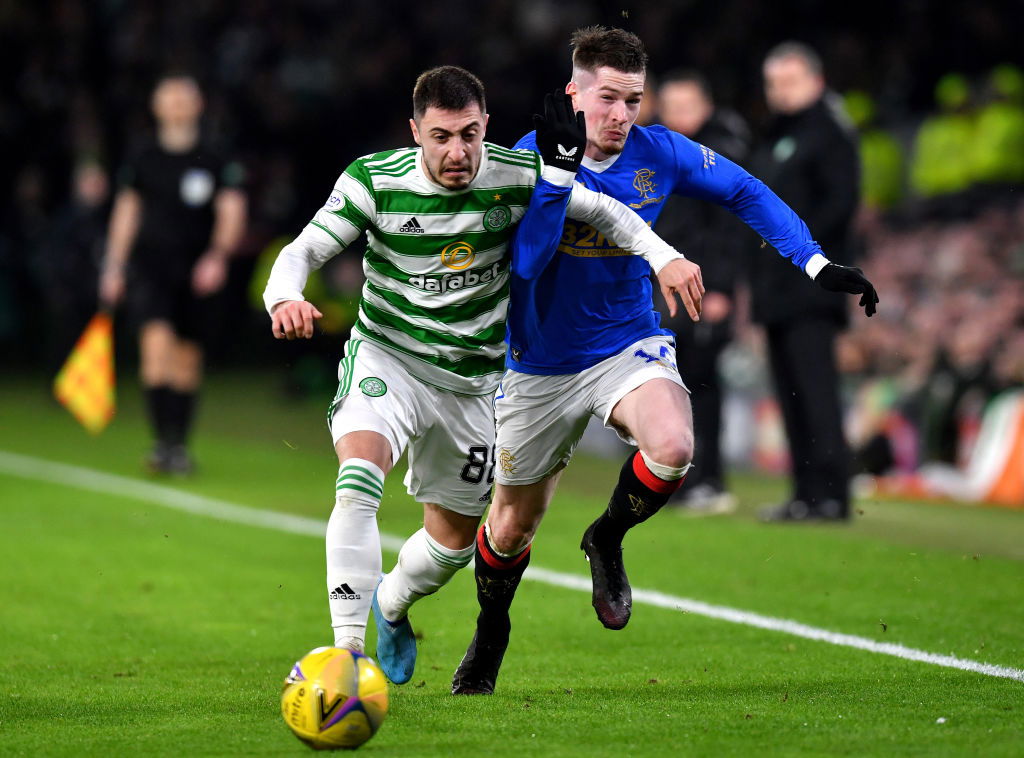 02/02/22: Celtic v Old Firm Inc.
YouTube: Celtic 3-0 Rangers | Hatate Scores Twice as Celtic Blow Away Rangers To Go Top | cinch Premiership
This was the big one, the chance to bury all the pain we'd endured for over 2 and a half years by not winning a Glasgow Derby.
This was the chance to go top of the table.
We came out with all guns blazing and by half time we were 3-0 to the good through 2 from Glasgow Derby debutant Hatate and 1 from Liel Abada.
The Ibrox side were shell shocked, the atmosphere was electrically charged, absolutely explosive and they had no idea what hit them.
We took the foot off the gas in the second half and relaxed our way to a comfortable win.
By 10 p.m. that night we were top of the Cinch Premiership, a position we never relinquished from that day onward.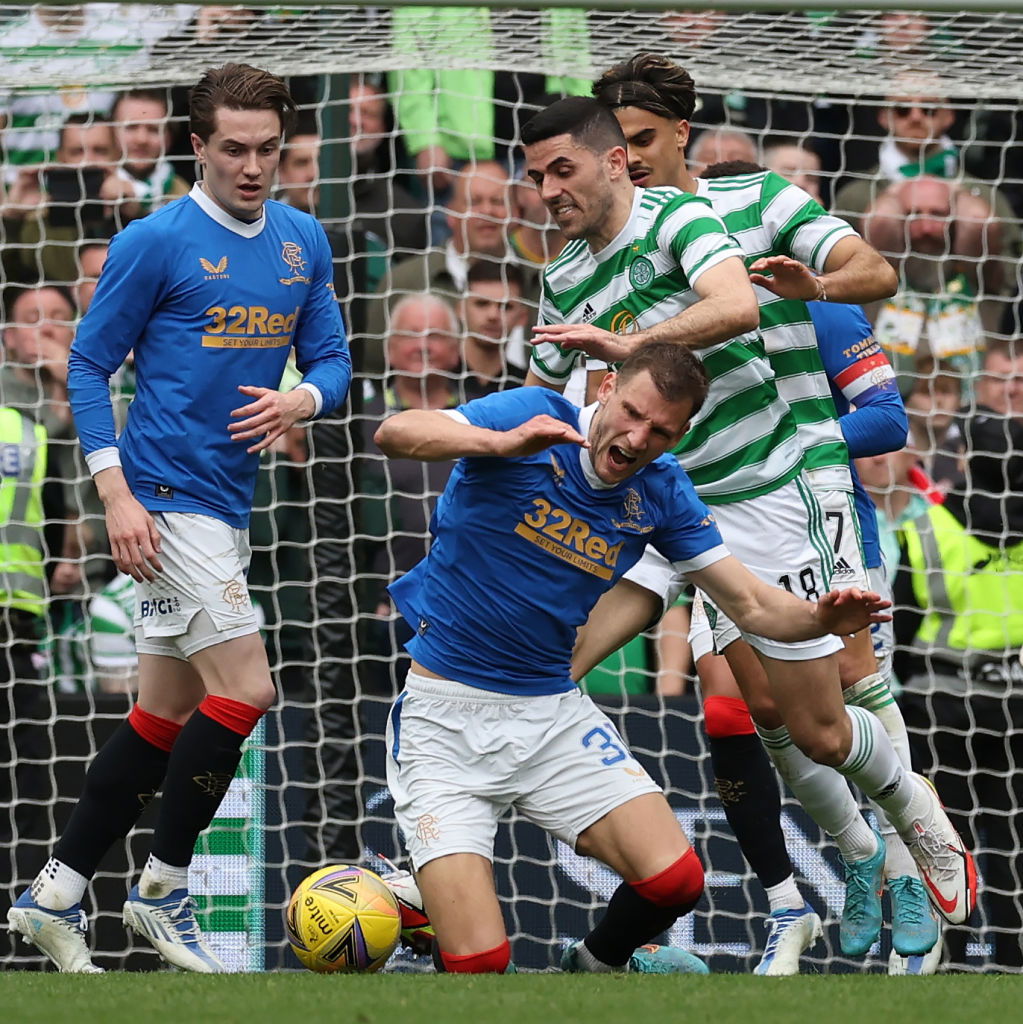 03/04/22: Old Firm Inc. v Celtic
YouTube: Rangers 1-2 Celtic | Celtic take six-point lead at the top of the table! | cinch Premiership
The epitome of a smash and grab.
We went to their back yard and came away with 3 points, this pushed us 6 points clear with a much superior goal difference.
After a bright start from the Ibrox side and an even rarer bright start from Aaron Ramsey, who scored the opener on 3 minutes, we settled and scored through Tom Rogic 4 minutes later.
Callum McGregor's penetrating run resulted in some ping pong around the Ibrox side's box before Tom Rogic calmly despatched the ball into the roof of the net.
3 minutes before half time, we took the lead through Cameron Carter-Vickers. A free kick dropped to him in the box and he drove it into the bottom right hand corner of Greegsy's net.
We never looked troubled in the second half and went on to see out the contest comfortably.
There was much weeping and gnashing of teeth in the Ibrox stands as the Klanbase began to realise the writing was on the wall.
They knew the title was heading back to Celtic Park.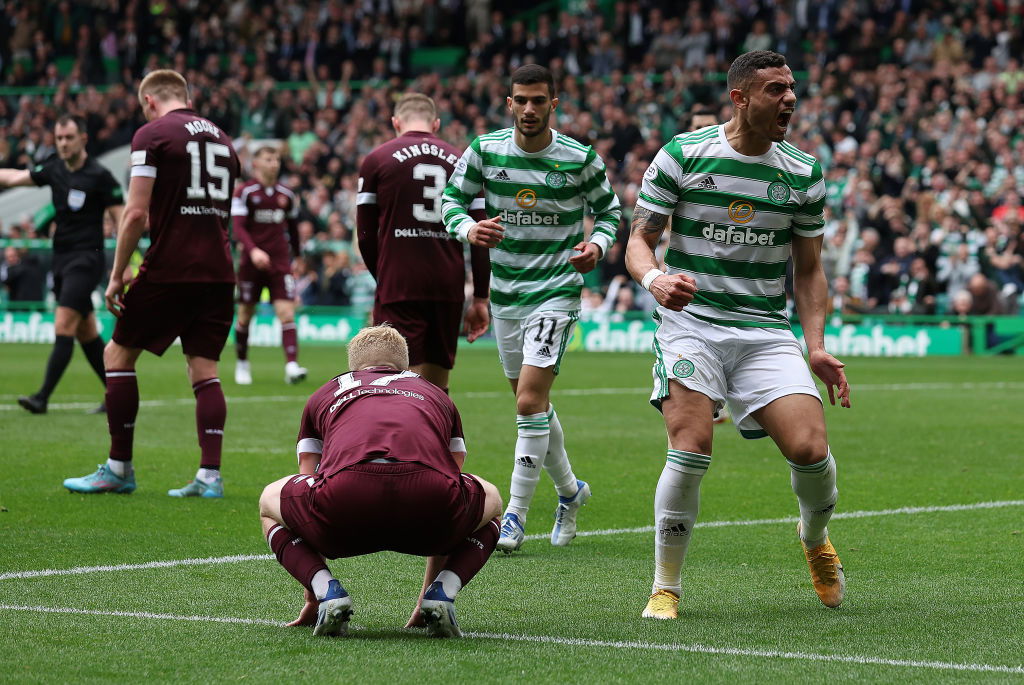 07/05/22: Celtic v Hearts
YouTube: Celtic 4-1 Hearts | Celtic on Brink of Winning Premiership! | cinch Premiership
The Ibrox side clung to our coat tails from the 3rd of April onwards. They came to Celtic Park and secured a 1-1 draw with a dogged performance against us.
The draw wasn't enough, they needed the win.
We knew if we beat Hearts the following weekend, it would all but ensure the title was ours, even if it was still mathematically possible for the Ibrox side to win it.
On the 7th of May, Hearts came to Celtic Park on a good run of form, having consolidated 3rd place in the league.
From the first whistle, it was clear we were suffering from nerves and within 3 minutes, Ellis Simms had given the Jambos the lead.
it looked like we might be in for a nerve wracking afternoon, but we needn't have worried.
We were level on 30 minutes through Maeda and ahead on 37 through Kyogo.
In the second half we pushed on, scoring 2 more through O'Riley and Giakoumakis.
The game finished 4-1 and we knew we were almost over the line.
The following Wednesday night we went to Tannadice and secured the League title after a scrappy draw with Dundee Utd.
Ange had performed miracles and delivered the League title in his first season.
These games were the ones that defined that season.
---
---