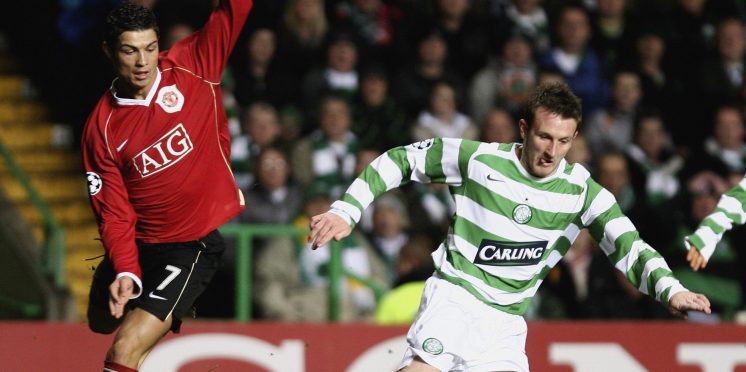 Fill in the blanks: Name the first eleven that beat Man Utd in 2006
Name the First eleven.
In November 2006, Celtic took on Manchester United at Celtic Park in a Champions League group match.
The bhoys had been narrowly beaten 3-2 in the away fixture against Alex Ferguson's side in September and were looking to give a better account of themselves in the home fixture.
It turned out to be a night to remember for all the right reasons. Celtic won the tie 1-0 thanks to one of the best free kicks in living memory from Shunsuke Nakamura.
But more heroics were to follow when Artur Boruc saved a penalty from Louis Saha after Shaun Moloney had handled in the box. Saha went onto to miss a gilt edged chance before the end and Celtic held on to win the game.
Here is what Michael Carrick had to say about the atmosphere at Celtic Park on that amazing night:
From Autobiography – Between the Lines, (2021) of Michael Carrick "The roar at Celtic park that November was outrageous. When the UEFA anthem finished the roar from the Celtic fans was something else, absolutely spine-tingling" "When Shunsuke Nakamura's free kick went in, the noise was so deafening my ears rang for a while afterwards"
A perfect summation of the Celtic Park atmosphere on a European night from an opposition player. Now see if you can name the first eleven that played that night.
I gave you a head start with Nakamura and Boruc!
You have two minutes, so don't waste any time!
You scored compared to the average of .
You finished out of .
| Hint | Answer | Correct |
| --- | --- | --- |
| Holy Goalie | | |
| Came from Coventry | | |
| Now a coach at Celtic | | |
| Big Man | | |
| Came from Wolves | | |
| He was a bit mad | | |
| He's even madder | | |
| Dreadlocked Dutchman | | |
| Ninja precision | | |
| Long, long name | | |
| Magic | | |
---
---