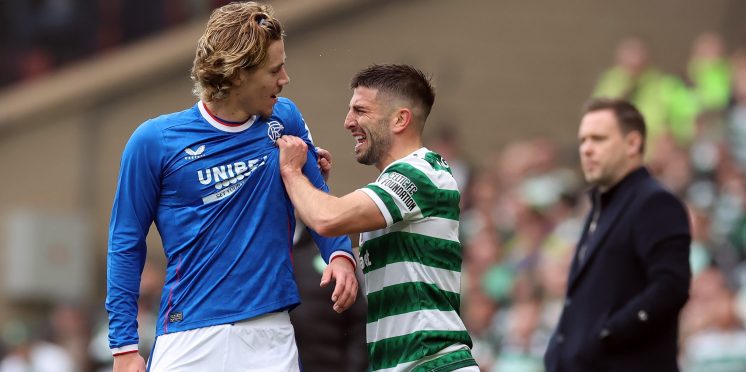 Cantwell epitomises how sportsmanship dies when you walk through the doors of Ibrox with his conduct against Celtic on Sunday
Sportsmanship is something that has always been in short supply at Ibrox.
When a club cheats its way to multiple trophies, all sporting principles have gone out the door.
Ultimately, that resulted in the old club's death.
I guess that's what you call Karma.
There are plenty of examples of bad sportsmanship from that era.
The mock huddle at Celtic Park on May 2nd 1999, is a prime example of Ibrox sportsmanship.
You've won the title on your arch rival's ground, but that's not good enough, let's rub it in by mocking their huddle in front of their already distraught fans.
It wasn't good enough that the ref handed you the win, you couldn't let it be.
There is a litany of examples of bad sportsmanship from that club.
The singing of the Billy Boys after a title win in the 80's, with Mo Judas Johnston stuck in the middle of it, is just another in a long line.
More recently, Fashion Sakala feigning injury to cheat his way to a penalty in the January derby, and then fist pumping and grinning to himself when he got what he wanted.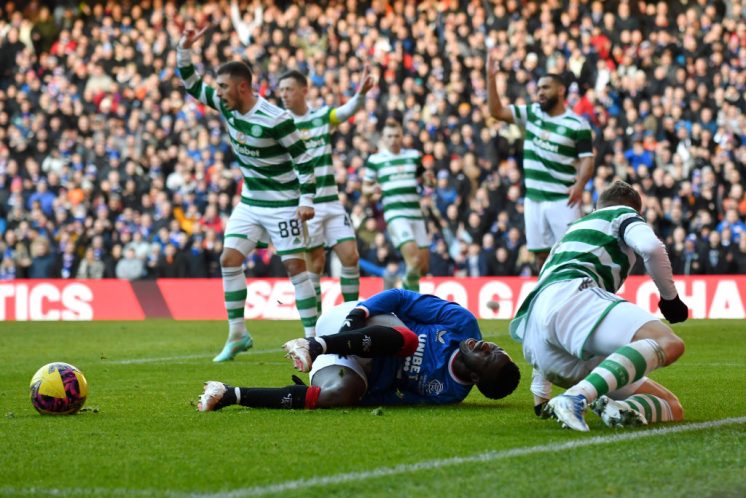 I could go on and on.
Put simply, sportsmanship is not part of the Ibrox DNA.
When you walk through those doors, you lie, cheat and steal your way to victory, no matter the cost.
If it kills your club, so be it, you start all over again, but this time, let's be worse than the last entity.
I noticed something interesting yesterday on Viaplay's build up advert to yesterday's game, I don't know if you noticed it, but I did.
They termed Celtic v the Ibrox side as Good vs Evil.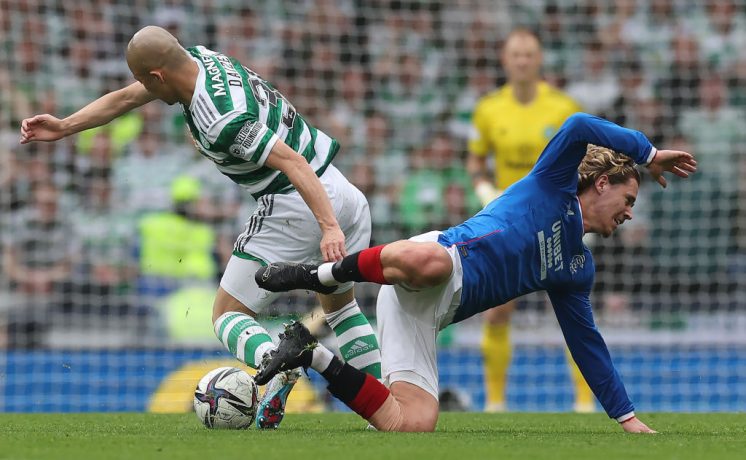 Now that's an interesting take isn't it?
Who is the good side and who is the evil side?
I guess that's open to interpretation.
However, somebody thought the rivalry should be termed as Good vs Evil, so either subconsciously or intentionally, they believe one half of the rivalry is evil.
It would be even more interesting to know who decided that should be how the rivalry is termed.
Which side do they support?
My money would be on them supporting Celtic.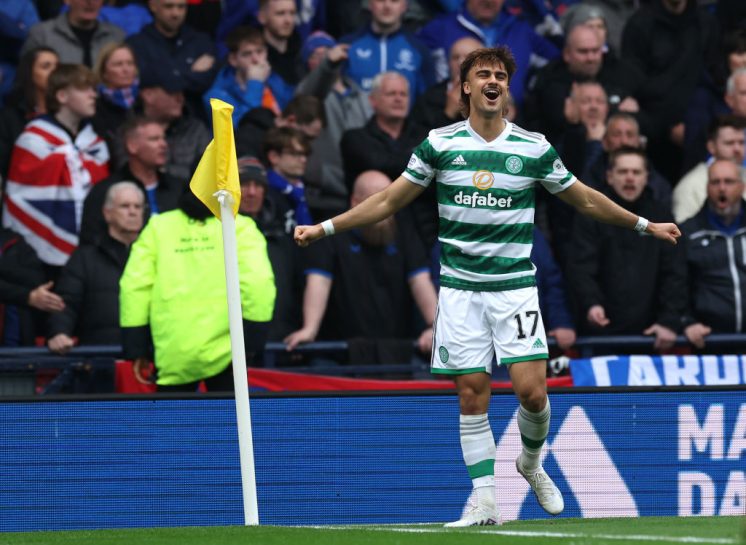 As I alluded to earlier, the current Ibrox entity has taken the decision to be worse than the club that died.
On Sunday, Todd Cantwell really epitomised their attitude to everyone else.
While Malik Tilman was injured and down receiving treatment, the Ibrox physio brought some water onto the pitch in his bag.
As the Ibrox players reached for bottles of water, Reo Hatate came up to his fellow professionals, asking for some water too.
Any normal player, at a normal club, wouldn't bat an eyelid at this kind of request.
They'd just hand the opposition player a bottle of water, no questions asked.
But not Cantwell.
This snivelling little excuse for a player decided that Reo Hatate, being a Celtic player, was not entitled to an Ibrox bottle of water.
So, in a move which has provoked complete derision, he moved the bag out of Hatate's reach.
I mean. it's bad when in the end, Morelos was the one who handed Hatate a bottle of water.
You've got to admire Hatate's persistence to get his water though.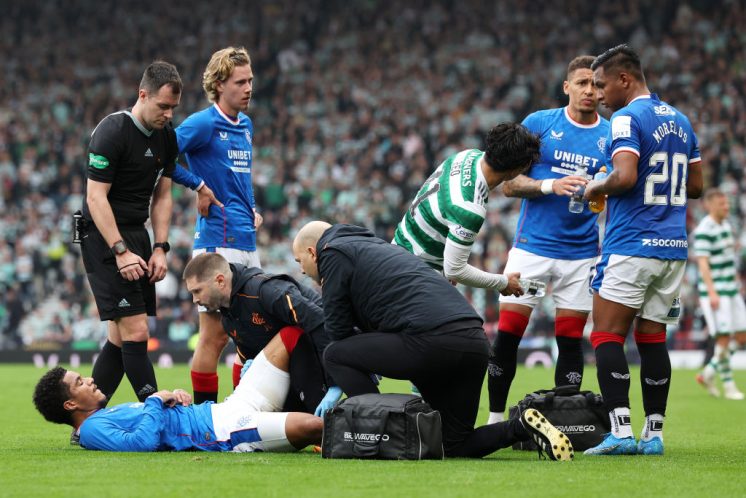 He wasn't allowing Cantwell to stop him.
Nor should he have either, as it shouldn't have been an issue in the first place.
But you've got to wonder, what makes a player become so petty?
I don't think Cantwell had previous when it comes to being an obnoxious arsehole, there was never any mention of him behaving obnoxiously during his time in England.
But since he has come north of the border, he has got himself in the headlines for all the wrong reasons.
Look, he's an Ibrox player, he's playing to a certain gallery, but even his team mates weren't having it on Sunday.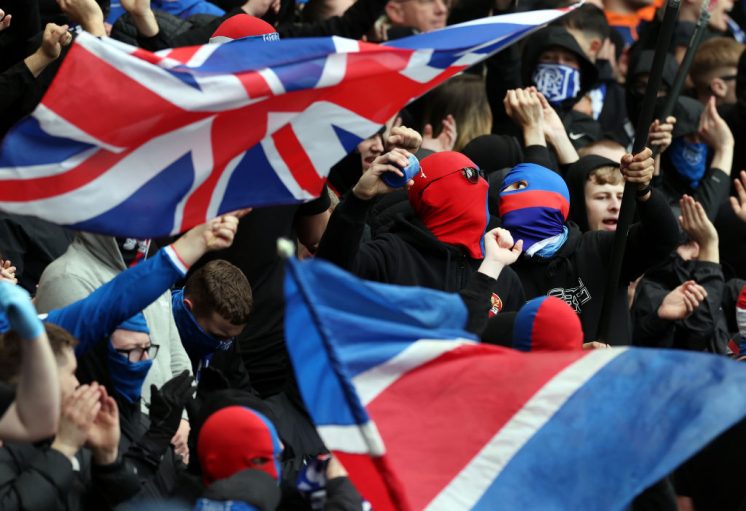 Which suggests that there may be an interesting divide forming there already.
It's been well publicised that Cantwell is on obscene money at Ibrox.
His performances as a player thus far certainly don't warrant the wages he's on.
He's another one of these merchants who is all mouth, but delivers jack shit.
He's in his fifth month at the club and he's a serial loser already, who will finish the season empty handed.
I guess he's got nothing better to do than to be an arsehole.
He certainly decided that sportsmanship wasn't in his DNA.
No, it vacated his DNA when he entered Ibrox.
Just as it has done with many more before him.
And just as it will continue to do into the future as long as that club is alive.
Which may not be for long more the way things are going.
Here's hoping…..
---
---