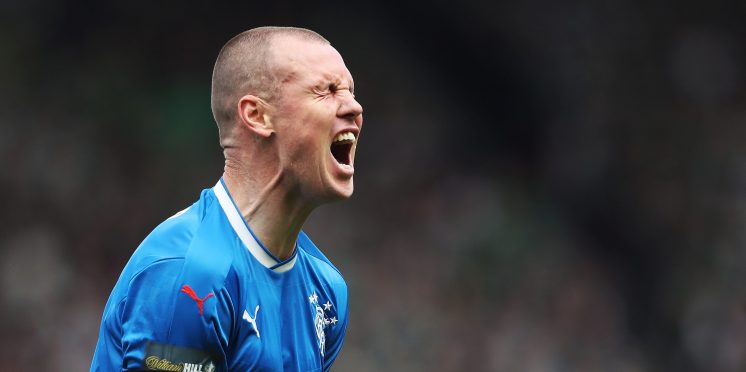 "Don't mention the gap". Kenny Miller cannot hide his anguish when it comes to Celtic's dominance
Kenny Miller is a man in a very unique position.
He is one of those few to have played on both sides of the Glasgow divide.
But that's really where the connection begins and ends.
He is Ibrox to the core, and he still was when he played for Celtic.
At this moment in time, his allegiance is the cause of much anguish for him.
He is struggling to come to terms with Celtic's dominance and as a result, delusion is starting to set in.
With 12 players coming to the end of their contracts at Ibrox, Miller believes that just 2 players will close the 'gap' on Celtic.
He fleshes this out in this morning's Record.
However, you mustn't mention Celtic, the Ibrox side, or the 'gap' in the same sentence.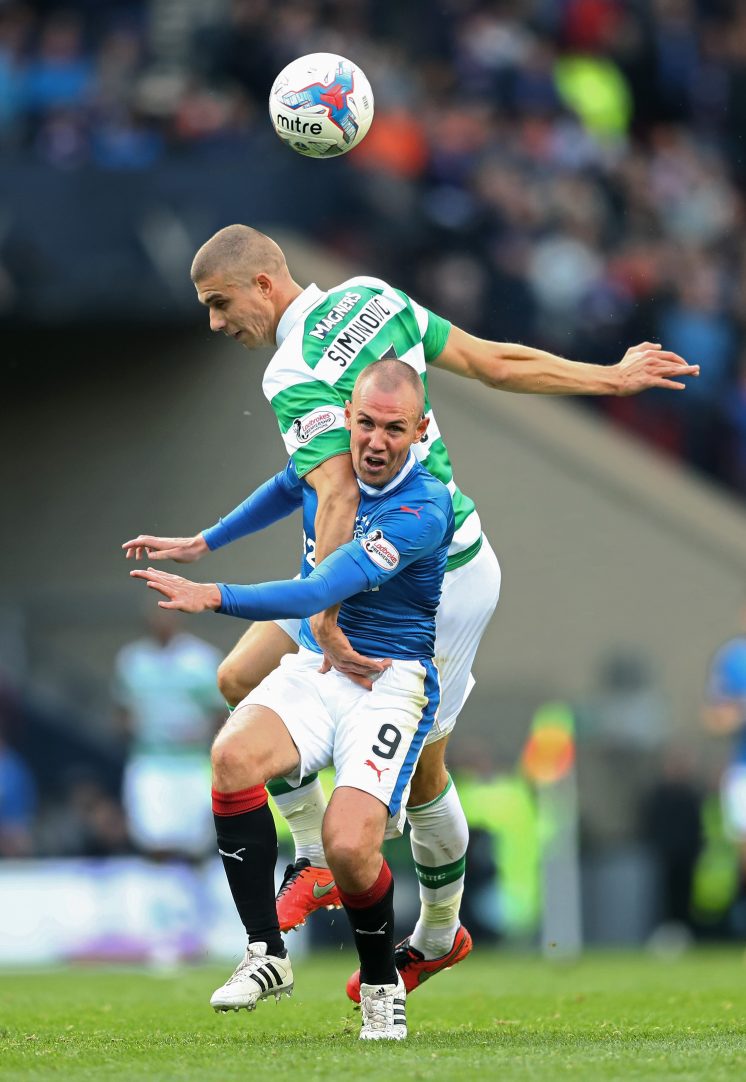 Please accept my sincere apologies for doing so Kenny, but unfortunately, I had to.
You see, Kenny really hates the 'gap'.
Kenny wants to know exactly what people mean when they use the term 'gap'?
Because as far as he's concerned, on the pitch, there is no 'gap'.
Except for the one where one team scores more goals than the other, and is therefore declared the winner.
Funnily enough, the Ibrox side have not beaten Celtic in the league since August 2021.
That's coming up on 2 years now.
No 'gap' you say Kenny?
With the exception of last year's Cup semi-final win, Celtic have won 6 encounters and drawn two outside of that.
Take the 2 draws out of that, (doing a bit of Mick Beale type theory here) and Celtic have 6 wins to the Ibrox side's 1.
Now, at the risk of upsetting Creosote Kenny, that's what I'd call a bit of a 'GAP'.
But Kenny doesn't see it.
Nope.
And nobody can tell me Celtic have been way better than Rangers in the four Old Firm games that Michael has been the manager. Look, Rangers need to find a way to win because Celtic have been relentless in their pursuit of trophies. I accept that. But if you look at the semi-final on Sunday, I think Rangers were the better team
Well, I guess if you want to describe some fanny with a hair band poncing around midfield with no end product, then maybe that's Kenny's definition of better?
Because from what I could see, one side huffed and puffed, but could not blow down the Carter-Vickers/Starfelt house.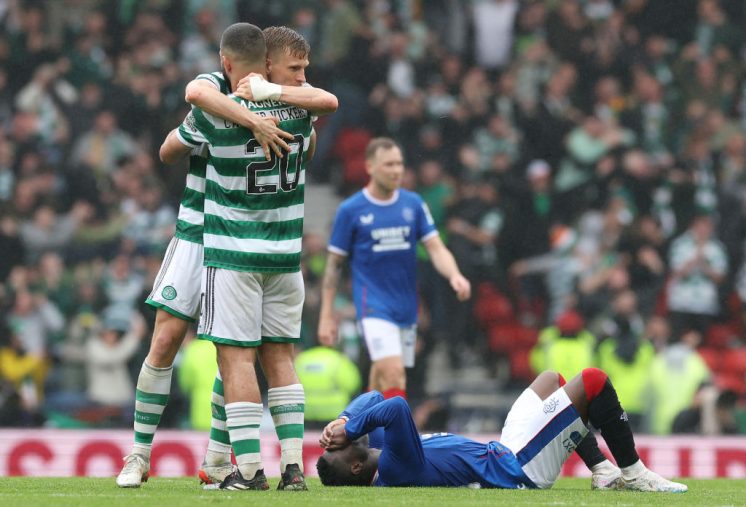 They seem to be doing a lot of that lately, y'know? Huffing and puffing?
Both on the pitch and off it, and from two ends.
And Kenny seems to be caught up in all the shite talk as well:
So this gap? I really don't see it. If it's a points gap then OK, it's 13 points. But it was nine points when Michael Beale arrived and the form and results of the team since then has been good. So I'll tell you right now that it'll be a lot closer next season. I have no doubt about that.
But it was nine points when Michael Beale arrived?
Great, its back to Mickey Beale's inheritance now.
Because, as you know, he didn't create the gap, he inherited it.
To be fair to him, he topped up his inheritance with another four points, so bully for him.
Kenny reckons its going to be a lot closer next season, no doubt about it.
Once again, as with everybody over in La-la land, there seems to be this perception that Celtic are just going to stand still and allow the Ibrox side to catch right up.
Y'know? To close the…….
I can't say it, Kenny will get upset, he hates it.
So I'll just refer to it as "an interruption in continuity".
That shouldn't bother Kenny too much.
Anyway, Kenny reckons two players should be enough and the "interruption in continuity" will be closed.
Celtic won't delve into the transfer market and hey presto, the Ibrox side will just catch up.
Yes, and maybe Fashion Sakala will get the "interruption in continuity" in his teeth closed as well.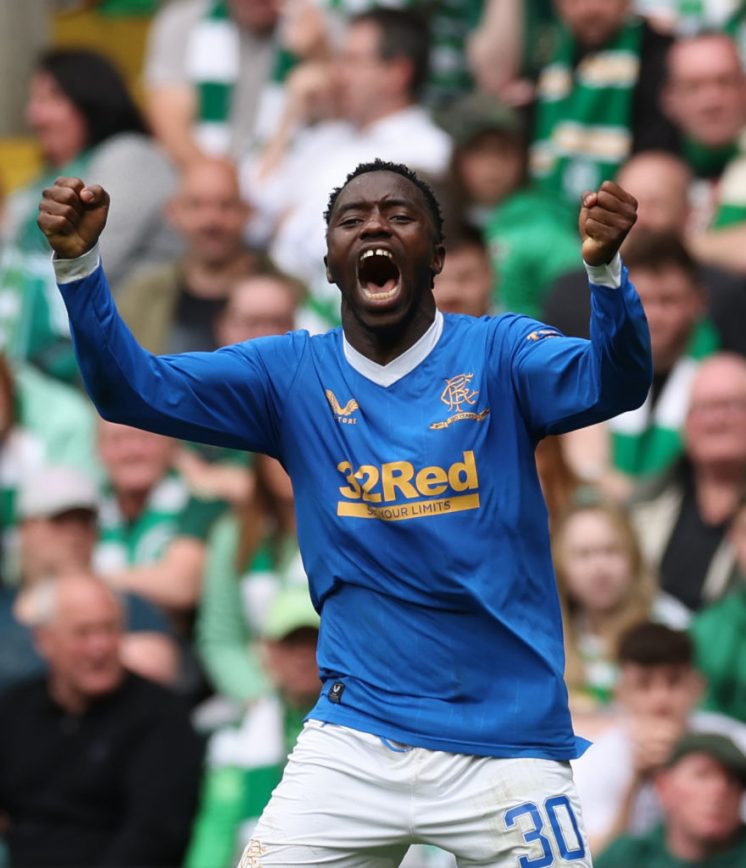 Fun times to look forward to at Ibrox next season then?
I hate to burst Kenny's bubble, but it's time for a reality check.
So let's talk about the real GAP.
Celtic are 13 points clear of the Ibrox side in the League. Gap? Check.
There's a strong chance Celtic will win all 3 trophies this season. Gap? Check.
The Ibrox side will officially win nothing, nada, zero, zilch. Gap? Check.
Celtic has about £50 million quid spare in the bank, with about another £40 million quid guaranteed from automatic qualification to the Champions League. Gap? Check.
The Ibrox side is broke. Gap? Check.
Bigger stadium, better revenue. Gap? Check.
I could go on and on.
Better sponsorship deals, better shirt deals, and on, and on.
But Kenny reckons there's no 'Gap'?
The addition of two players will solve this?
What planet is this guy living on?
His delusion has also led him to believe that Todd Cantwell is the Messiah and Nicolas Raskin is the Saviour, and the new look squad will be built around them.
I'll leave you with his final collapse into all out fantasy:
Who wins the league is probably going to be decided by who turns up in the Old Firm games. But you can't tell me there is a huge gap. Celtic are definitely ahead of R*****s right now, with Ange further ahead in his journey than Michael.

But I believe R*****s will make strides this summer. And if Nico Raskin and Todd Cantwell are a sign of things to come, then R*****s will be stronger. It's a really interesting summer coming up.
Yes indeed, the Ibrox side will make huge strides, while Celtic just watch them and do nothing.
Clearly Kenny has not been paying attention at all.
I agree with him when he says its going to be an interesting summer.
It's going to be extremely interesting to see how much larger Ange makes the 'Gap'.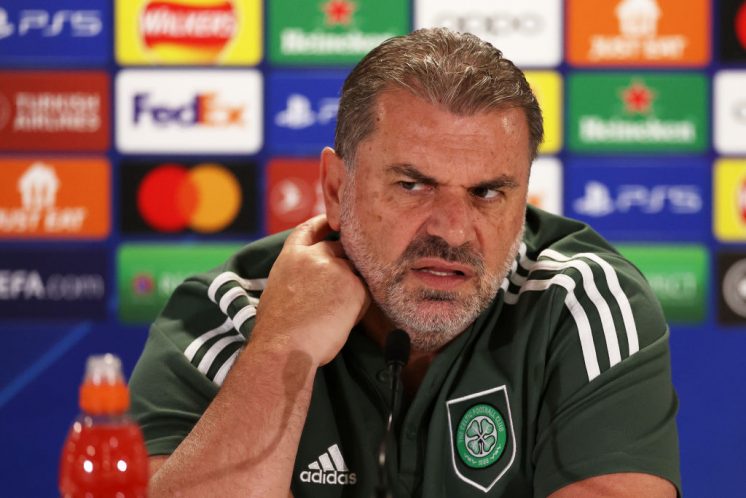 He may just pull Celtic out of sight.
Meanwhile Kenny can enjoy the influx of free transfers from England.
And dream of past glories.
Because that's all they have now.
Its all they'll continue to have.
---
---