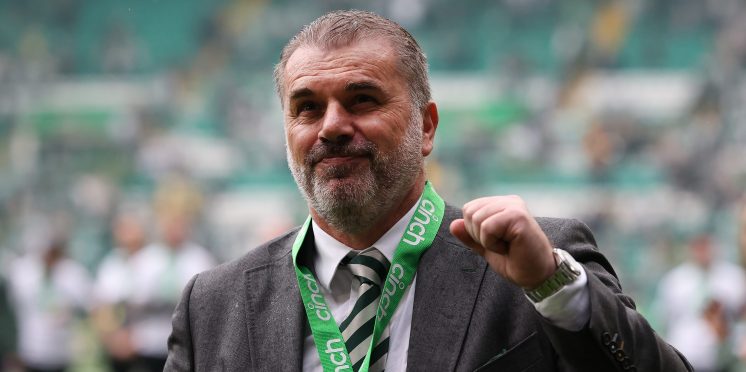 Keevins tries to continue the "crisis at Celtic" narrative by creating a doomsday scenario for next weekend
The media are really in overdrive today when it comes to Celtic.
They are revelling in the uncertainty that now surrounds Ange Postecoglou in relation to the Tottenham job.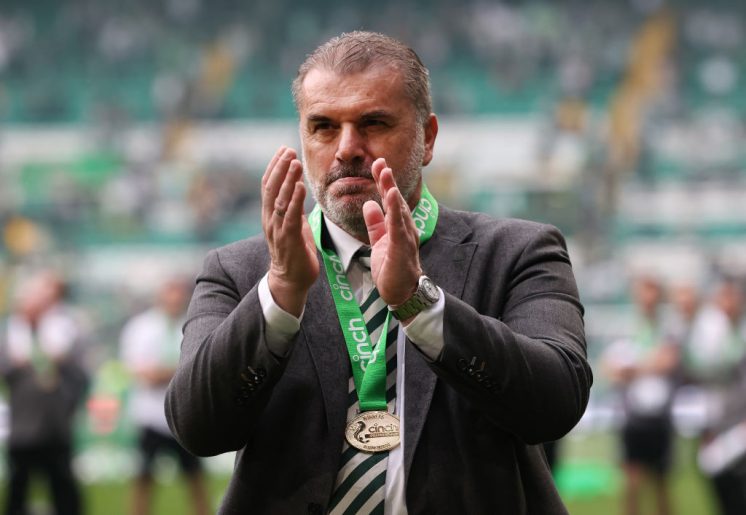 Added to that, they just can't seem to let go of the fact that the run of games, from Ibrox to Easter Road last Wednesday night, were nothing more than bounce games in which Ange experimented with his squad.
They are convinced that Celtic are in the midst of a crisis and that this crisis could be our undoing next weekend.
Reading Hugh Keevins this morning in the Record, his entire focus seems to be on the possible doomsday scenarios Celtic are facing in the coming weeks.
Unlike most Celtic supporters, who at this stage recognise those three games for exactly what they were, Keevins believes we are "concerned" about next week's cup final:
Incredibly, Celtic have, by going three games without a win before Saturday's rout of Aberdeen, managed to turn a walkover of a cup final into a serious topic of discussion. There are even concerned Celtic supporters who wonder if Postecoglou's team might be up that creek with the rude first name ahead of Hampden.
Might be up Shit Creek?
Clearly Keevins has paid no attention whatsoever to what Ange has said about those three games.
He used the games to experiment.
To try things he wouldn't normally do if the games actually meant something.
Which they didn't.
Note, however, how Celtic resumed normal service yesterday.
When it mattered on Trophy day.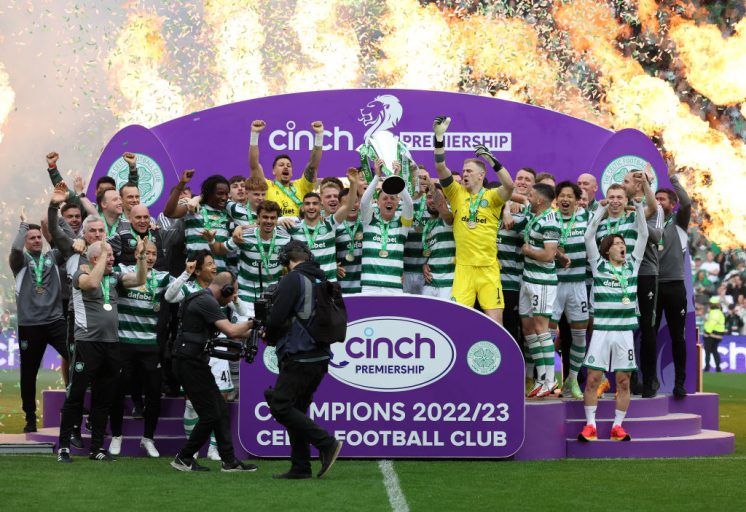 It matters next Saturday, and based on what I saw yesterday, I am not a concerned Celtic fan.
Don't get me wrong, I hate seeing us lose any games and the results inclusive of and since Ibrox didn't exactly fill me with joy.
But I wasn't panicking.
I listened to what Ange had to say and I could see he was not concerned.
I knew there was a reason for that.
Keevins clearly chooses to ignore all of that in today's article, but this next excerpt defies belief:
If Ange is looking for ways before then to incentivise his disoriented team, and pacify the fan base, then he could try this one on for size. If Celtic should lose against the Championship side it would be the biggest humiliation ever suffered in the club's 135-year history. Bar none.
Firstly, we don't need pacifying.
A 5-0 drubbing of Aberdeen yesterday, and then lifting the League Championship at the end of it, goes a long way to pacifying anybody of a Celtic persuasion.
Secondly, did we look in any way disoriented yesterday?
I don't think so.
Thirdly, trying to put pressure on Ange by stating that losing to Inverness would be the biggest humiliation in our 135-year history, is the oldest tactic in the book.
Does Keevins really think he'd use that angle to motivate his players?
Seriously?
It really shows the kind of mentality this has been has if he thinks Ange would use that type of statement to incentivise his players to win a treble.
Ange Postecoglou and his players are about to set a World Record.
That alone, is motivation enough to make them want to win the game.
Not some clap trap about how it would be the biggest humiliation in our history if we lost it.
That would not even enter Ange's thought process.
It's the type of motivation tool only negative managers, who are serial losers, would use.
Keevins goes on to dredge up all of the embarrassing Cup Final losses Celtic have had in their history.
He really tries to drive home the destruction losing to Inverness Caledonian Thistle would cause to both the club and Ange Postecoglou's reputation.
It genuinely makes for cringeworthy reading.
What he actually attempts to do in this article is equate losing this Cup Final to losing the ten.
He attempts to paint it in that kind of light.
It is an embarrassing, wholly negative, pile of garbage.
Keevins basically tries to use a crisis, that was not a crisis, to create the possibility of a doomsday scenario unfolding at Hampden Park next Saturday.
It isn't going to happen.
With the greatest of respect to Caley Thistle, if Celtic even play to even half the level they did yesterday, it's going to be a damage limitation exercise for the Championship side.
All the spin in the world from Hugh Keevins isn't going to change that.
With regard to the Tottenham job, the reason Ange keeps sidestepping the subject is because next weekend is what's most important to him.
He knows he has the chance to make his own history at Celtic, and as the fans put it yesterday with their Tifo, he has the opportunity to stand on the shoulders of giants.
He will not be thinking of anything else.
This is why he won't speak about the Tottenham job.
Because effectively, there's nothing to speak about other than speculation.
I read an awful lot into body language and when I saw yesterday's footage of Ange Postecoglou and his wife and sons, I saw a man who is genuinely happy where he is.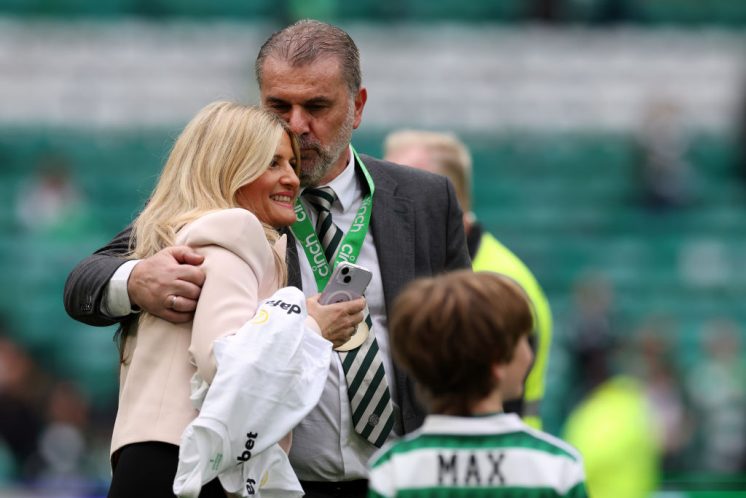 A man who was totally at ease with his surroundings.
He knows there is so much more to achieve at Celtic.
If Tottenham are courting him now, imagine who will be courting him if he achieves any kind of European success with Celtic?
Right now, the world is Ange Postecoglou's oyster, so why would he not wish to grow his profile right where he is at the moment?
Ange is not like Steven Gerrard, jumping ship at the first opportunity when the Premier League comes calling.
He made it clear yesterday that there is so much more to come from this team.
He is a smart man, he knows it's unlikely he will ever form a bond like he has with Celtic, with any other club.
If and when Ange Postecoglou leaves Celtic, he will leave a legend.
He will not do a Brendan Rodgers on it and defile his name with the support, he is not an egotist.
He will leave when he has achieved everything he set out to achieve.
That time is not now.
No matter how much the SMSM and the Ibrox support wishes it was.
Remember what he said yesterday, "Champions again because I'm a lucky man!"
That was a nod to Michael Beale.
He's going to show Beale just how lucky he is by bringing down his Ibrox revolution next season.
He's all in for next season.
Chances are we'll know that for sure by this day next week.
When Celtic become REAL World Record holders.
It's his and our destiny.
---
---