Those pesky things called tactics come back to haunt Mickey Beale as he hands the entire Champions League TV pot to Celtic
Well, suddenly a dull, dour week of misery when it comes to all things Celtic takes on an altogether different perspective.
You've got to feel for poor Mickey Beale.
The affable cockney geeza now has to face into a season of Thursday evening football wivaht the glamour and glitz of Champions League nights on Tuesdays and Wednesdays to look forward to.
Like cockney comedian geeza Mickey Flanagan's sketch about being "aht, aht", the Ibrox side were most certainly "aht, aht," of the Champions League last night when Jack Butland haplessly flapped and flailed at Conor Goldson's well placed shot into the bottom left corner of his goal.
5-1.
But who cares?
The Ibrox side weren't ready for the Champions League and they didn't need the "Champions Leagues monies" anyway.
I recall two years ago, when Celtic exited the Champions League to Midtjylland, it being seen as something akin to a catastrophe.
But not for the Ibrox side, of course.
They just weren't ready, and the Europa League is really their level.
And of course, they're in the middle of a rebuild.
But Celtic weren't two years ago, and we all know exactly how everyone viewed A.N.G.E.
Of course, coz Mickey's a lovely, affable cockney geeza, he gets a free pass.
Europa League here we come!
Know your level and all that.
But here's the thing, it seems that once again, those pesky things called tactics seemed to elude poor Mickey.
In fact, in addition to that, the whole entire game seemed to elude superstar signing Jose Cifuentes.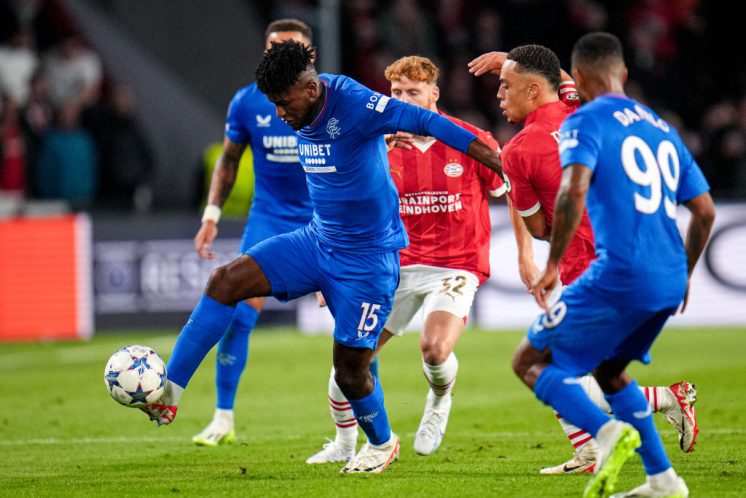 One wonders where he fit into the "tactical" plan?
By the looks of things, it was to be "tactically invisible".
Now, I have to be honest here, poor Brendan Rodgers seems to be having his trials and tribulations with tactics at Celtic.
However, unlike his Glasgow counterpart, he does have a tactical plan.
It's just that it's not quite gelling yet.
One wonders if it will miraculously begin to gel next Sunday?
Stranger things have been known to happen.
I'm intrigued to find out what happens when you match someone with a tactical brain against a tactical "weela' and deela'", who specialises in "a bit of this and a bit of that" when it comes to tactics.
Because looking at last night's display in Eindhoven, it seemed like that was the kind of tactical plan being deployed.
You know, a long bowl 'oofed up the pitch 'ere and theya, a mazy run wiv a shot at the end, and the odd shot at your own goal, kind of fing?
Then just throw a dainty little ballerina into the mix with flowing blond locks, who spends more time with her face in the dirt, and you have the perfect mix for a good 'ol west end musical.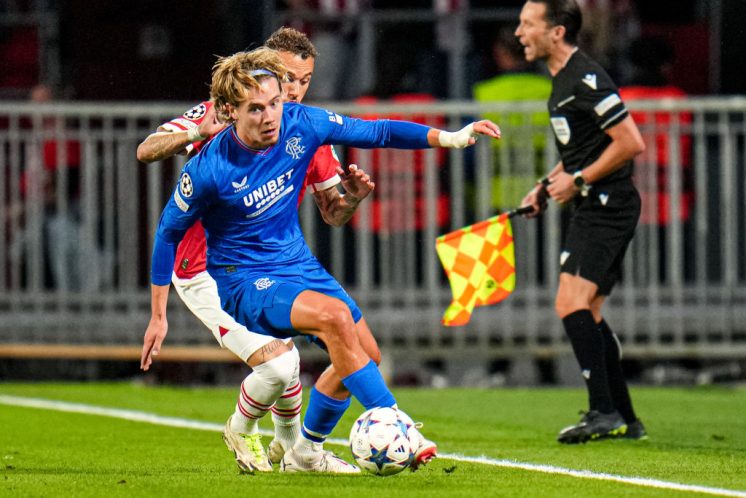 "Ood 'ave fought it?"
Since I'm getting into the 'ol cockney geeza side of things, I suppose you could equate Celtic to Ronnie Biggs, he of the "Great Train Robbery" fame.
Then you could equate Mickey Beale to the train driver.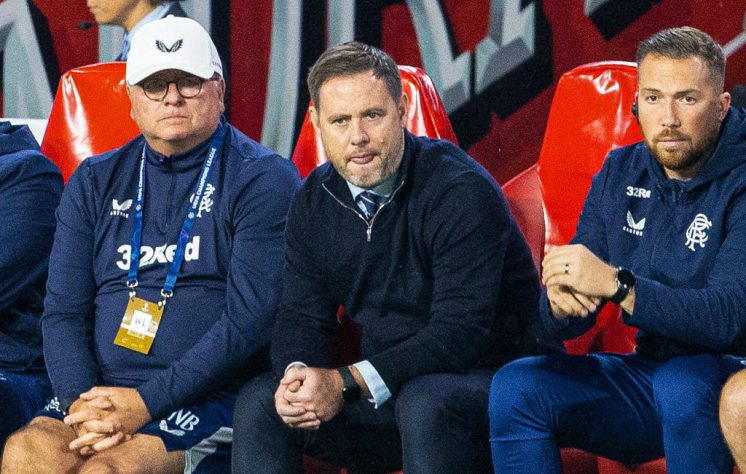 "Oo just got robbed of millions of Champions League quid".
Because tactically, he couldn't drive the Ibrox train.
Okay, okay, time to stop it.
I'm getting carried away.
But after almost a fortnight of misery on the Celtic front, I needed that bit of comic relief from Comedy Club Sevco.
They've been sorely missed of late, but boy, oh boy, did they come back with a bang last night!
I suppose, inevitably, as sure as night turns into day, that club will always produce comedy gold at some point.
I mean, as if I wasn't laughing hard enough at 4-1, I can assure you when Conor Goldson scored that beauty in the 81st, my sides well and truly split.
I'm sure Danilo would give his right arm for a finish like that!
On a more sombre note, spare a thought for the Ibrox faithful.
They were certain that Celtic were imploding, and that we weren't going to make another signing before the transfer window shut.
All of a sudden Celtic now know they have a lot more money to spend as a result of last night's result.
The additions of Luis Palma, Paolo Bernardo and Nat Phillips look to be serious signs of intent from club.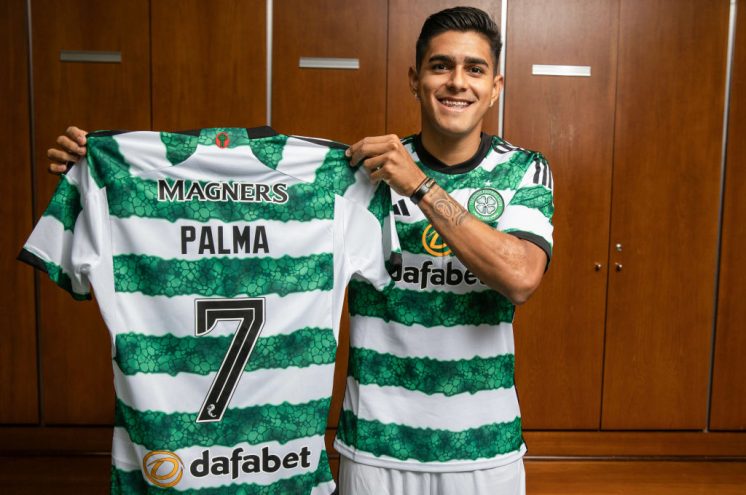 And from what we're led to believe, they won't be the last signings of this window.
Rumours are circulating that an as yet unknown left back is pretty much wrapped up also.
All of a sudden, the trip to an extremely partisan Ibrox doesn't seem as ominous as it did at the start of the week.
You now have two wounded animals about to square off against each other.
One of those animals is a serial winner.
The other, a serial loser.
One Manager is a rookie.
The other a veteran, with 8 trophies under his belt.
It will now make for a very interesting contest.
Will there be more comedy gold in store?
Will tactics elude Mickey Beale once again?
Can Brendan Rodgers suddenly find his mojo?
So many questions.
All of a sudden, I can't wait for it.
Fanks Mickey, for restoring my faith in the natural order of things.
For a while there, I really thought things were out of kilter.
Oh yeah, and Scotland's biggest club finally got a decent draw in the Champions League.
Atletico Madrid, Lazio and Feyenoord.
Not bad, eh?
Yeah, things seem to be falling into place nicely.
Ain't that just chippa guv?
---
---