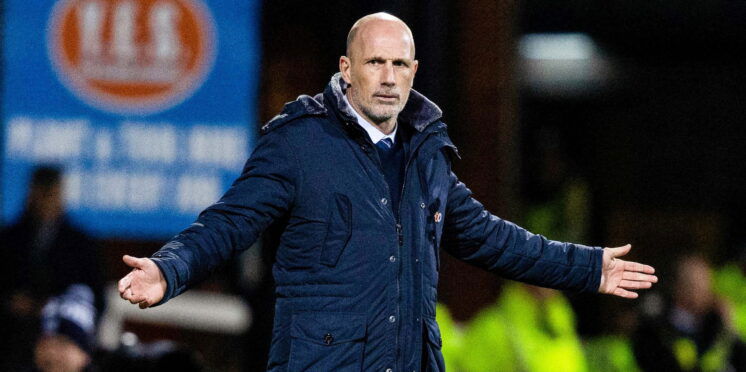 Keevins, the man who wrote Ange Postecoglou and Celtic off after one game, tells us Philippe Clement is…..Ange Postecoglou
I've been off the blogwaves for a while now.
Sadly, my Dad passed away last Thursday, so, needless to say, my focus has been elsewhere.
Today is the first day in a while I've sat down to analyse any Scottish football news.
Seeing what Hugh Keevins has written in this morning's Record, however, has cheered me up no end.
It's cheered me up because I can absolutely skewer it.
Keevins has really scraped the bottom of the barrel with this one, and if a piece of writing were to define it's writer, this one does it with bells on.
Here we go:
Philippe Clement is R*****s mirror image of Ange
That's the first half of the headline attached to Keevins' article.
So, where do I start with this?
I'll give it a go with this:
Ange Postecoglou showed a Celtic lack of understanding because he ain't heard nothing yet mate
That was the headline attached to Keevins' infamous, no wait, famous article on Ange Postecoglou's first league game against Hearts back in August 2021.
Famous, because it began with these opening words:
At the very least we now know what the Ange in Ange Postecoglou stands for.

Absolutely. Not. Good. Enough.
It was such an inept, classless, and premature article, that in the end, all it did was show Keevins up for the absolute moron that he is.
A moron who shoots his mouth off with predictions that are never, ever on the money.
Which brings us nicely to this morning's article.
An article in which Keevins conveniently forgets his August 2021 on Ange Postecoglou.
It opens with this beauty:
You could hardly call four games a body of work but Philippe Clement, based on the evidence gathered so far, could be R*****s' Ange Postecoglou.
Bear in mind that Keevins, based on the evidence gathered after one game in Scottish football, reckoned that Ange Postecoglou was – Absolutely. Not. Good. Enough.
Now, after four games, he reckons Philippe Clement is the Ibrox side's Ange Postecoglou?
Well, I guess that there is the kiss of death on the title aspirations of Phillipe Clement and his Ibrox side.
Because, as we all know, Keevins' predictions are about as useful as a set of pedals on a wheechair.
I can rarely, if ever, recall any that he has got correct.
Even a stopped clock is right twice daily, but Keevins' cannot even aspire to emulate that much.
His opening paragraph in this article is hilarious:
Ange took six games to work out Scottish football when he arrived from Japan to manage Celtic – then he dominated our game until he left for Spurs. Clement has yet to lose a match and has started to get a tune out of players who were only capable of one bum note after another under his predecessor Michael Beale.
It took Ange one press conference to work out the SMSM.
After that, he owned them.
Keevins believed he had Ange figured out after one game.
We all remember how that worked out.
Ange also figured out very quickly how refereeing worked in Scotland.
Just as Clement has.
With one glaring difference.
Ange knew referees did everything in their power to ensure decisions went against his club.
Clement has figured out very quickly just how useful Scottish referees are to his club.
Case in point, last week's game against Hearts at Ibrox.
If Clement didn't know it before that game, he now knows that John Beaton could be one of his greatest allies going forward.
He will also learn that Beaton will be a great help to him in games that do not involve his club, but will influence their results to help his favourite club.
The subject of Scottish refereeing, of course, is one that Keevins gutlessly avoids.
He believes that all Celtic fans are paranoid.
Note his language is this section of today's article:
The manager speaks about his introductory phase at Ibrox as being an "observation period". Last Sunday's league win over Hearts was a "reference game".
A reference game.
In reference to what, exactly?
The fact that Scottish referees will always ensure the Ibrox side gets a result when they so desperately need one?
Or a reference to the fact that James Tavernier will always step up when the words synonymous with almost every game involving the Ibrox side are uttered, Penalty to R*****s?
I'd say Keevins might be having a thinly veiled laugh at the rest of us, but I'd be doing all of us intelligent people out there a disservice.
Keevins is not that intelligent.
Of course Keevins has written Hearts off for today's League Cup Semi-final.
Personally, I don't rate their chances either, however, Nick Walsh is in charge of today's tie.
For a long time, people believed this man to be another Ibrox lackey.
However, he has fast emerged as one of the better, more consistent referees in Scottish football.
If Hearts are to have any hope of knocking the Ibrox side out, Walsh might just be an influencing factor in said hopes.
I suppose the fact that Keevins has written them off should be considering a good omen?
After all, we know how accurate his predictions are, don't we?
I'll leave you with this golden nugget from the Prince of Pish:
Clement has not been overly critical, or excessively boastful. Being controlled has worked for him so far – like it did with Ange.
Ange was not overly critical.
Nor was he ever excessively boastful.
He was beyond controlled.
But according to you, Hugh, he was – Absolutely. Not. Good. Enough.
So if Philippe Clement is his mirror image, what does that make him after four games in charge?
The Ibrox messiah:
Our man reckons the new Ibrox boss is showing he has the controlled demeanour to be a roaring success in Glasgow – just like the former Celtic boss.
A roaring success in Glasgow?
12 games into 38 game season Keevins has it all figured out.
Just as he did 1 game into the 2021/22 season.
Enough said.
---
---